Easy dadoes with basic hand tools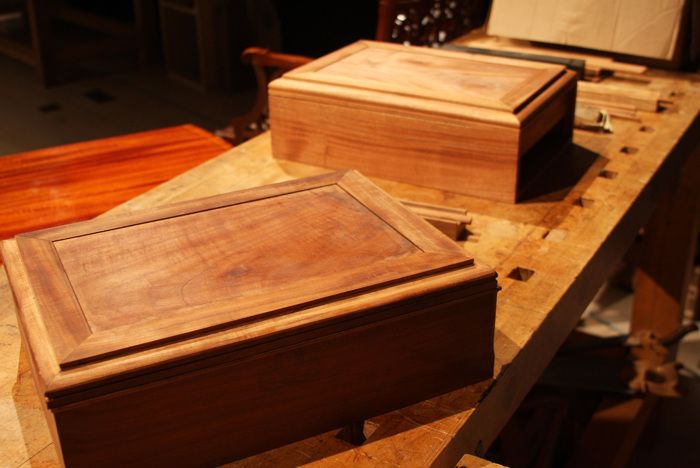 Today Williamsburg's master cabinetmaker, Mack Headley, worked on reproducing a small "Travelling Box," by Thomas Sheraton. It is always amazing to see how much you can do with the simplest of hand tools.
The box is full of dividers, most of them set in stopped dadoes that you can't see from the top. Mack showed how he makes precise stopped dadoes of all sizes and depths using nothing more than a chisel and marking gauge, plus a dirt-simple block that turns a chisel into a router plane.
He scribed the sides of the slot, then began to chisel out the waste, bevel down. Next he went back to the marking gauges to deepen the cuts at the edges, before returning to chisel the waste. From time to time, he chopped the end of the dado. Then came a really cool trick. Explaining that he doesn't own a router plane for cleaning the bottom of the dado, he simply made one. Inserting his chisel in a block of wood so it protruded out the bottom. It worked like a charm!
These are the "travelling box" reproductions. They had two in progress.
Inside are lots of compartments and dividers, joined to the sides of the box with stopped dadoes.
You start by scribing both edges of the dado with a marking gauge, before using a chisel bevel-down to begin digging out the waste. Be most careful at the entrance of the cut, where you don't have walls to guide you. There actually two slightly offset dadoes here, almost in line but not quite.
Then you scribe both walls again, to deepen them. You really need two marking gauges, so you don't have to change their settings. And they need knife-style cutters in them, to create a smooth dado wall.
Then you just chisel out more waste, getting close to final depth. Every once in a while you go to the end of the dado, using the chisel vertically to chop the end clean and square.
Last, Headley stuck his chisel in a simple wood block, turning it into a router plane to finish off the bottom of the dado!
Don't have a router plane? Just make one! This highly effective yet simple jig is nothing more than a narrow chisel stuck into an offcut from another job. 
The chisel is held in with a wedge. Headley said to be careful when cutting the slot for the chisel and fitting the wedge, or the chisel won't hold its setting. The chisel is tilted backward at a slight angle for better cutting action.