Fine Woodworking's 15 Minutes of Fame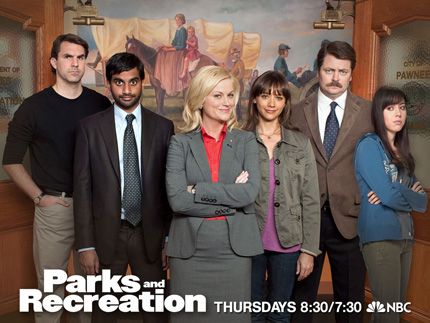 Woodworking doesn't exactly have a spotlight shone on it very often. Let's face it, most of us dabblers in sawdust would rather be planing pine or milling maple than, oh…say, appearing on national television. Last night however, two of our very own enjoyed a few moments on the NBC Thursday night comedy, Parks and Recreation.
As some of you may know from a previous blog post, FWW editor Asa Christiana and contributing editor Chris Becksvoort flew out to Los Angeles back in October to appear in a scene in which Ron Swanson, played by actor and real-life woodworker Nick Offerman, receives an award at the fictional Indiana Fine Woodworking Association. You can catch the entire episode in the video player below. To skip to the woodworking-related scenes, you can fast forward to minute 03:21 for a comical homage to Christian Becksvoort, who Swanson refers to as the "modern master of the Shaker style." You can also catch Asa Christiana get disgusted and storm out of the show after Swanson beats him for the association's "Chair Award" at minute 12:33.
I've also taken the liberty of posting a quick clip of Chris' final edited scene as well as an outtake from the episode in which Ron Swanson meets his idol, Chris.
OK, so it wasn't a full fifteen minutes of fame-but even 30 seconds is a hoot for us. Hat tip to FWW contributing author and Parks and Recreation actor Nick Offerman for shepherding this entire idea to fruition. Enjoy the show!
Parks and Recreation: Ron and Diane
Christian Becksvoort's Big Break
https://youtube.com/watch?v=YXb-5ClEElA
Ron Swanson Meets his Idol