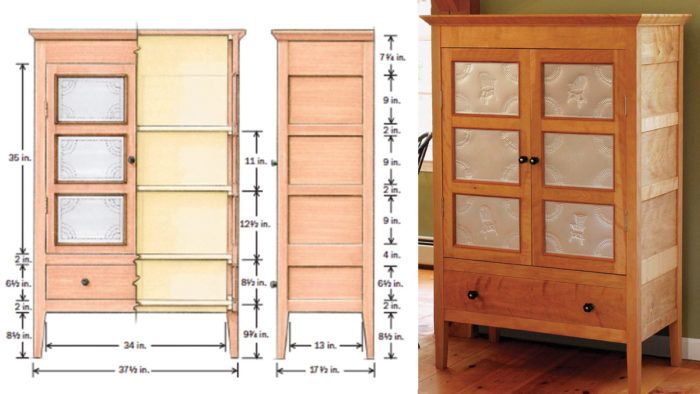 This piece is called a pie safe, but you won't find a combination tumbler or padlock on it. It is a free-standing cupboard based on ones that 19th century families used to keep little critters out of their pastries and other treats. The form stuck around even after refrigerators showed up because it looks good and works well as a sort of pantry. Folks nowadays use them to keep dishes, dry goods and other useful kitchen items. You could still put a pie in there, if you wanted to.
Either way, it's a handsome piece, with frame-and-panel construction for the doors and case and a bit of tablesaw genius to cut the crown molding.
The free download includes an exploded drawing of the piece, with dimensions, plus Mike Dunbar's full article explaining how to build it. Also included are detail drawings of the joinery and the cutting sequence for the unique tablesawn crown molding, plus a sidebar on creating the punched tin panels for the doors….Pies not included.
View PDF