What I've Learned About the Online Woodworking Community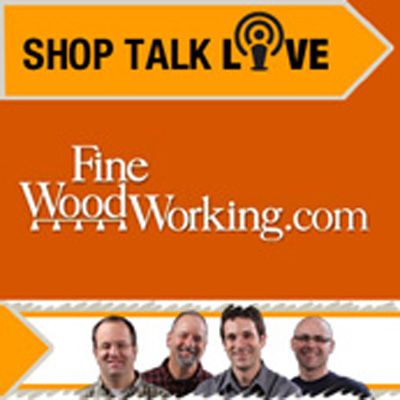 Most of the world's cultures have an adage that goes something like: Mistakes or problems have a gift wrapped inside. I've learned a ton from one of my own screw-ups this past week. With some time to process, I've started to make lemonade from the lemons, and I think it will make me a better editor of Fine Woodworking.
We recently started a podcast, called Shop Talk Live, where the editors hang out, answer readers questions, and invite on special guests who happen to be visiting. We tend to start each show with whatever is on our mind at the moment. Could be a personal experience, a bit of philosophy or inspiration, or just a pet peeve. In the now-infamous episode 5, coming off an experience online where I saw someone handing out bad advice, I went on a mini-soliloquy about false experts on YouTube, etc.
---
Listen to Shop Talk Live
---
The free podcast is available via the itunes store.
---
To make matters worse, we originally titled the episode, "A Perfect Storm of Stupidity," a quote from later in the show where Mike Pekovich and I talked about some of our recent dumb mistakes in the shop (we call those regular segments, "Smooth Moves." Yup, the whole thing just drips with irony.)
You won't be shocked to hear that these smooth moves set off a firestorm online, with a barrage of videos, tweets, blogs, and comments, kicking our butts for being elitist jerks and so on. At first I thought it was just the title of the episode, and that definitely fanned the flames, but beneath it was legitimate hurt and damage. Sad thing is, I didn't get it at first. I spent a lot of time reading comments, posting my own, and talking to my friends in the blogosphere (thanks, Modern Woodworkers Association), and now I finally think I do.
The online woodworking community, though something of a Wild West, of course, is mainly about support and help—basically—community. And my comments were neither supportive nor helpful. Though I was coming from a FWW editor's perspective, someone who feels tremendous pressure to disseminate the best possible info, and was talking only about a small handful of my experiences online, I missed the point completely.
For most people woodworking is a solitary pursuit, and can be intimidating, too, and for them the massive outpouring of free online blogs, videos, hangouts, etc. is manna from heaven. So the last thing they want to hear is that FWW thinks that bloggers don't cut it. Of course, I don't think that, but I was really dumb not to understand my comments would be taken that way. For the record, I think that the proliferation of online info has been overwhelmingly good for the craft. For one thing, how else are we going to pass it along to the next generation?
All I can do now is to apologize to those I hurt. It is sad, because we do a lot here at FWW and FineWoodworking.com to celebrate and support the work of ALL woodworkers, of all stripes and skill levels, from our visits to shows and events around the country, to our blogs and online gallery, to my free videos at StartWoodworking.com, and so on.
But obviously I have not engaged fully enough with this vibrant and generous community. If I had, I would have kept my dopey comments to myself! In my ongoing effort to find the gift wrapped inside my mistake, I promise that Fine Woodworking will find new and better ways to interact and engage. For a start, we'll have some bloggers on one of our future tapings of Shop Talk Live, to talk about what they get from the community and how FWW can better engage it. But that's just the start.
Shop Talk Live is the FWW editors regular podcast. It is best downloaded from iTunes, as audio-only.
We also provide a video feed at FineWoodworking.com, but who wants to stare at these guys for an hour?
You can tell from Mike's expression that I was headed off the deep end.