Trim Plywood Edging Flush, Simply and Safely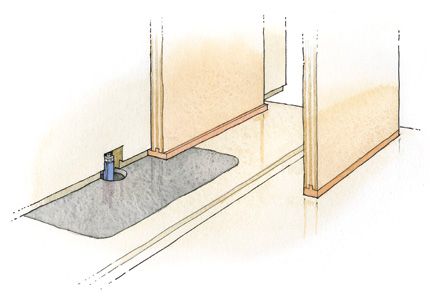 If you've ever tried to flush trim hardwood edging on plywood shelves using a handheld router, you know how dicey a proposition that can be. The router's base needs to balance atop an edging that's just a bit more than 3/4-in. wide. Ever try to balance an elephant on a teacup? Alright, that may be an extreme metaphor, but you get the idea.
Fine Woodworking reader Roland Mattison's recent tip, published in FWW #226, solves this problem by taking the work to the router. His router table approach is faster, safer, and more precise.
Along the bottom edge of an auxiliary fence, Mattison cuts a shallow rabbet that is slightly wider than the thickness of the edging he wants to trim. Then it's simply a matter of notching out for a flush trim bit and mounting the auxiliary fence to the router table. Just be sure to align the face of the fence with the cutting edge of the flush trimming bit.
To make the cut, firmly hold the plywood panel vertically against the fence, so that the excess edging fits neatly into the rabbet. Turn on the router, push it on through, and voila!