Community woodshop opens in Philadelphia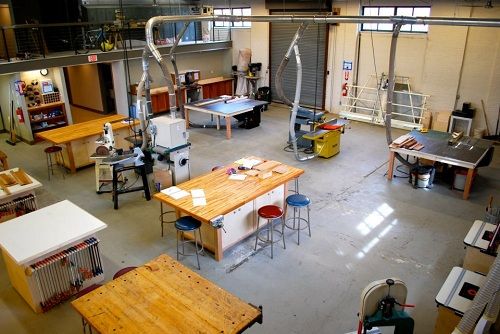 A group of Philadelphia-area entrepreneurs and artisans has opened a community woodshop in the city that offers pay-per-use shop time, as well as classes.
Philadelphia Woodworks, founded by first-time entrepreneur Michael Vogel, opened its doors in March and has a grand opening scheduled for April 22. The 8,000-sq.-ft. shop is stocked with $100,000 worth of machinery and hand tools, including multiple tablesaws and bandsaws, wood milling equipment and other machinery. There is also a lumber storage area filled with reclaimed materials from Provenance Mill Works, an architectural salvage shop in the city.
The shop has several membership tiers, according to its website. Unlimited access ranges from $129 to $199 a month, depending on the number of months purchased. A weeknight pass costs $39. In addition, members will need to take a safety certification course, which costs $199 for the shop, and another $99 for woodturning equipment.