Adrian McCurdy: Furniture Riven from the Log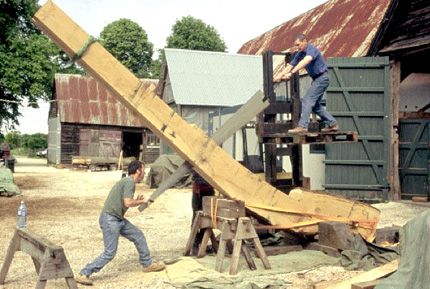 For Adrian McCurdy, furniture making begins with a sledgehammer and a rank of splitting wedges. McCurdy makes stools and benches, even lidded chests and boxes, from boards that he splits directly out of oak log sections. After air-drying the wedge-shaped boards for several years in the drying sheds behind his house in the south of Scotland, he works the wood mostly with hand tools, producing furniture that clearly reflects–in its irregular contours and in its astounding ray fleck–its origins as riven wood.
McCurdy is largely self-taught as a furniture maker, despite the fact that his father, Alec McCurdy (now 96 and writing a book about his career) is a superb furniture maker with roots in the English Arts and Crafts movement. Growing up in England, Adrian was drawn more to fine arts than to his father's profession. It wasn't until he had been painting for 15 years that he discovered his passion for furniture making.
Needing to supplement his income as an artist, McCurdy had been working several months a year for his brother Peter, whose firm McCurdy & Co. was earning an international reputation for restoring and recreating historic timberframe buildings. In his work on timberframes, Adrian learned much that he would later apply to furniture–from hand-tool use and a thorough knowledge of oak to a facility for scribing complex joints between irregularly shaped workpieces.
When a museum curator at one of McCurdy & Co.'s job sites asked if Adrian knew someone who could build medieval-style furniture, Adrian said he would give it a try himself. To complete the commission, he studied what medieval furniture he could find in museums and taught himself the appropriate methods of work–riving green wood planks and legs, hand-tool use, and joinery.
Since then McCurdy has built many pieces befitting the medieval period, but he has also been designing pieces that arise from similar methods but are indelibly stamped with his own striking style.
More Masters of the Craft Slideshows
• Geoffrey Warner: Assembling a Life
• Peter Shepard Turns the Page
• Curve It Like König
• Partners in Craft: Harold Wood and John O'Brien
• Tool Chest with an Arts & Crafts Legacy
• Adrian Potter: Thinking Furniture
• Hank Gilpin: Exploring the American Forest
• Doug Mooberry: Kinloch Woodworking
• Michael Hurwitz: Planks into Poetry
• Brad Smith: Story of a Stool
• Hank Holzer and Judith Ames: Labor of Love
• Michael Fortune: The Clever Chair
• John Cameron: A Musician in the Woodshop
• Allan Breed: The Past Recaptured
• Kintaro Yazawa: Joint Wizardry
• Grant Vaughan: Subtropical Virtuoso
• William R. Robertson: Micro Maestro