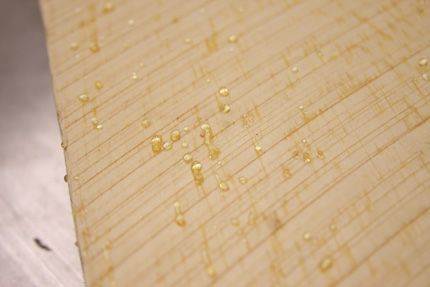 A few months ago I fell upon a heck of a good deal on some locally-milled white pine I wanted to use in the construction of a simple Shaker writing table. A fellow Taunton Press staffer had taken down a massive tree on his property and had it kiln-dried by a local outfit, which subsequently sold the material off to us at a great price.
You Get What You Pay For
Trouble was, some of the wood may not have reached the critical temperature necessary to set the sap while in the kiln. The lumber had been air dried and subsequently heated in a kiln, but something was wrong. After only about a week in the FWW workshop, about 60% of the wood I'd paid about $100 for began to weep sap like nobody's business. I needed a game plan, and fast. Luckily, the wide boards for my tabletop and front/rear aprons were largely heart wood and thus, totally sap-free. The rough boards I planned on using for the legs, drawers and short aprons, however, had enough sapwood in them to render them almost unusable.
My Kitchen Provides the Perfect Solution
Here's how I got around the sap problem: I began by scrubbing off as much of the sticky stuff as possible using rags and mineral spirits. Then, I cut off as much of the sappy edge grain as possible at the bandsaw and rough-cut my smaller components to size. From there, it was just a matter of baking the wood until the sugary sap crystalized and then hardened. I baked the pine at 160-degrees for a little over an hour–keeping a close eye on the oven for safety reasons. I found that the high temperature actually did two things: 1) it drove most of the sap up to the surface, where I could easily remove it with hand tools, and 2) it hardened any sap left behind in the wood, thus preventing possible "weeping" through my final finish in the future. In the photo at left, you can clearly see how the sap migrated to the surface, particularly via the end grain.
With the sap now dried and hardened, I worked the boards with a handplane to get rid of all the sap that had migrated to the surface while in the oven. Hardened sap will dull your planer and jointer knives super-fast, and it's easier to re-sharpen a plane iron than a set of jointer knives.
With the boards now sap-free, I was able to mill them to thickness as usual, using my jointer and planer without any trouble. I came away with smooth, clear boards and my shop machinery wasn't any worse for wear! As for the table, I've now got the legs nicely tapered and mortised, and today I'll head back into the shop to mill all my aprons to final size and cut the tenons. I'll be sure to post the piece in FWW's online gallery once it's all assembled.
Final Product
After baking, handplaning, and surfacing my pine components, here's what I'm left with; beautiful, clear boards just perfect for my table's aprons. Sometimes life gives you lemons, and when that happens in the woodworking shop (and you've got a limited budget to work with), you've got to engage in some creative problem solving. If anyone else out there has more tips on this subject, I'd love to get the word out in the comments section at the bottom of this post. Happy building!
One big sappy mess. About 60% of the pine I'd bought for a recent project was covered in thick globs of sap. There was no way I could machine the material in this state.
The solution lay in my oven. By baking my pine furniture components, I was able to set the sap and make it safe for machining.
The final outcome? Smooth boards with hardened sap that are ready for final milling and cutting into various components for a Shaker writing table.