JessEm - JessEm Tool Co- Mast-R-Lift II Router Lift
Mast-R-Lift is the better choice. It accepts a wide number of different brand routers and its adjustments were smooth and precise.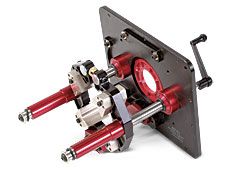 Review by John White
FWW #222 (November/December 2011)
Most router lifts will either accept only one size machine or require you to buy a sleeve matched to your router motor's diameter. The Mast-R-Lift II takes a different approach. It grips the router with four jaws that can be easily adjusted to match 18 router models from eight different manufacturers. Height adjustments on the Mast-R-Lift are made with an above-the-table crank handle. Adjustments are silky smooth without a trace of free play. Fine adjustments are no problem, either. It was easy to nudge the bit up or down by 0.001 in. or less. To go from the highest to lowest settings takes a little more than 50 turns of the crank.
My only criticism of the Mast-R-Lift is that it comes with only one 2-in. insert. If you want smaller or larger inserts, you'll have to buy them as a set for an additional $28. The wrench for installing the inserts is very nicely made with a substantial handle that is offset for knuckle clearance.
Read "Router Lifts," FWW #155.
Review by Roland Johnson
FWW #237, Tools & Shops (Winter 2013/2014)
Street price: $207
Source: rockler.com
Vertical misalignment: 0.006 in.
Vertical play: 0.007 in.
Insert ring alignment: −0.009 in.
A nifty cam lock made quick work of taking the motor in and out. Height adjustments were no problem, and there was very little vertical play. But the insert ring is held in place by screws, and that's a hassle on a tool that is supposed to be all about convenience. It works only with medium-size routers.