Just Plane Trivia: Why Do They Call It a Frog?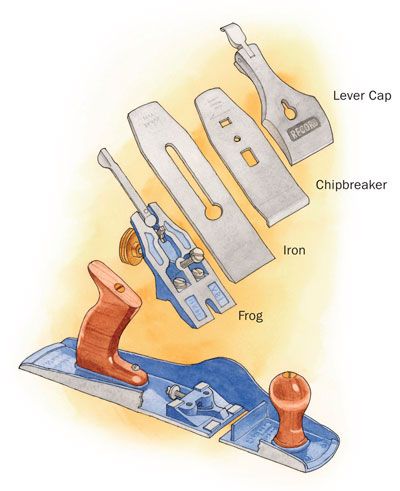 It's safe to say that in the six-plus years I've been roaming the sawdusty halls of Fine Woodworking, I have read and copyedited dozens of articles about handplanes.
But until last week, it never occurred to me to ask this question:
Why the heck is that nifty doohickey that supports the blade assembly on a handplane called a "frog?" If you stare at it long enough, it kind of looks like a frog. Could this be why?
I put it to my esteemed colleagues.
At first, my question was met with deafening silence. This is unusual around here, especially with Matt Kenney in the room.
Then the responses started to trickle in.
"It keeps the blade from hopping around," said Tom McKenna.
The always helpful Ed Pirnik replied: (To be read in a "Cliff Claven" voice) "Well, ya see there, ahh, Liz, back in Roman times, they, ahh, used the oil secreted by the ahhh, acanthus frog to lubricate the simple plane irons they were usin' back then. And, err, so  over time, it became, ahh, known as a 'frog.'"
"It's because it's in the throat of the plane," Matt said.
Obviously, it was time to go outside the office for answers.
"I'll bet [Chris] Gochnour will know. He is a huge Stanley buff," said Asa Christiana. But the Goch said he didn't know.
Matt asked Deneb Puchalski of Lie-Nielsen, who said he thinks it harkens back to the definition of "frog" as a depression imprinted in the upper surface of a brick. "This describes in some ways the function of a frog in a plane," he said. "There may be a connection. Anyway, we call the bedding point for the frog the 'lily pad,' just because."
"Because it vaguely resembles a crouched frog…..really….I'm  not kidding!" said Rollie Johnson. Since this is what I had originally thought, I was going to go with Rollie's answer. It made sense, and it made me feel smart. Everybody wins.
But then Mark Schofield chimed in, having consulted Ernie Conover. And here is what Ernie said:
"I had somehow thought  that it was because a Bailey frog looks like a frog. I looked through a lot of books to get a definitive answer. The most exact, and convincing, reason is found in Rodger K. Smith's Patented Transitional & Metallic planes in America 1827 -1927." He sent along a copy of the page.
I'm going to paraphrase the book because it does go on. It says the first inventor to use the term "frog" in reference to the handplane was Justus A. Traut, who worked for the Stanley Rule & Level Company in the late 1800s. Apparently Traut and his co-workers started calling the thing a frog because it is just behind the throat—and harkened back to the saying "I've got a frog in my throat." Stanley didn't start using the term publicly in their documents for many years.
As much as I hate to admit it, that wiseacre Matt Kenney appears to have been right.
Drat.
Now on to my next question: Why do they call it a mill bastard file?
Just because this is FWW, we need a nice drawing so you can see exactly what the frog is.
It kind of does look like that thing on top of a handplane, doesn't it?
It kind of does look like that thing in the pond, doesn't it?