Winner Announced: Help Crown a Dovetail King!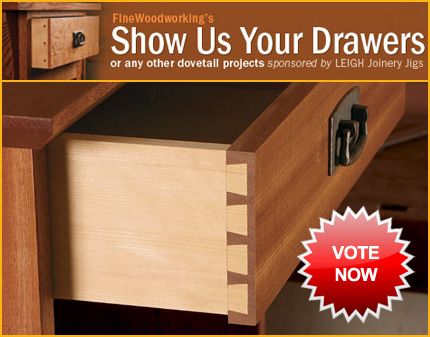 UPDATED January 13, 2011
Over 2,000 votes were cast for the winner of our Show Us Your Drawers dovetail gallery challenge and a clear winner has emerged. Receiving well over 50-percent of the votes was user rcheek's Curved Dovetails on a Small Lingerie Chest. Dovetails this tight are always tough to produce but they're all-the-more difficult when the drawer fronts are curved. Well done!
Runners-Up
Coming in second place was user, EdwardG99's My Workbench, which would be equally at home in a formal dining room or a dusty shop.
In third place was user, havens' Drawer Module for Jewelry Armoire. Several custom templates were built to produce the drawer joinery. Adding to the difficulty was the fact that this was havens' first attempt at curved dovetail joinery.
---
The time has come to crown a new dovetail champ and give away a great piece of gear from Leigh Joinery. We've poured through the entries and selected six different finalists based on several criteria including popularity with the online community, originality, and just pure skill.
Truth-be-told, we really didnt' see any sub-par joinery among the contest entrants but as always, we needed to cull the crowd a bit and limit the voting pool. Review the following entries carefully and cast your vote using the poll at the bottom of this post. Remember, there's a Leigh Super12 Dovetail Jig on the line!
Select your favorite dovetailed project below.
Voting is limited to one per person.