Does MDF Belong in Fine Furniture?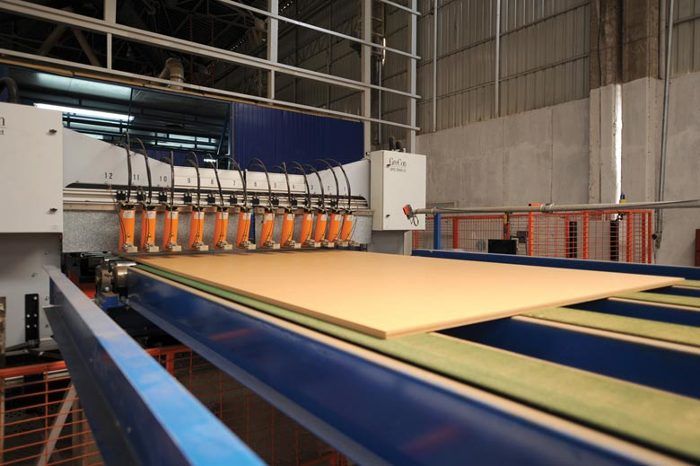 While MDF is widely considered a "material of choice" when it comes to constructing workshop jigs and fixtures, the thought of getting it anywhere near fine furniture is enough to induce a heart attack in most any serious woodworker. Let's face it, it's not wood. Rather, it's what some might call an odd, space-age concoction of wood fibers and urea-formaldehyde-yes, formaldehyde. Sounds nice, doesn't it?
Truth-be-told, I don't often see MDF in the FW shop unless it has something to do with a jig. With that in mind, I posed a simple question to the staff and figured I'd share the responses. If you feel strongly one way or the other, be sure to sound off in the comments section of this post. And don't be shy if you disagree with any of my quoted editors, make yourself heard. Yes, WE DO read those comments at the bottom of every blog post!
Should MDF have a spot in your shop?
Editor Asa Christiana felt that MDF had only a couple of appropriate places in fine furniture:

"Veneer work, and also door panels in painted pieces, are the only places I can think of for MDF in fine furniture. That said, it's great for shop furniture, and with a couple of coats of an oil-based finish, it makes a really tough work surface."

Managing editor Mark Schofield used MDF for a full-size mock up while building part of a federal-style desk:

"It's flat, cheap, and quick to build with. The only drawback is the dust when cutting and especially routing."

Senior editor Tom McKenna says he's got a "love-hate relationship" with MDF:

"It's not only great for jigs and shop cabinetry, but I've used it for the interior parts of painted furniture, drawer runners and cabinet interiors with varying degrees of success. But the 3/4-in. sheets weigh a ton and the material kicks up a lot of very fine dust when you're cutting it."

Associate art director Kelly Dunton, who is the proud father of a new baby, had this to say:

"I've used MDF for shop shelves, jigs, and workshop tabletops. Right now, I'm building a five-drawer built-in dresser of MDF (for the baby). The carcase is MDF and the false-front drawers probably will be as well. My plan is to dress the front and drawer edges in poplar. The exposed front is going to be painted and the drawers will be mounted with side-hung drawer slides. At $30 a sheet, MDF is inexpensive and paints easily."

Associate editor Matt Kenney veers towards using MDF for one of its more common uses:

"MDF is the perfect material for templates, because it's very easy to shape with sandpaper, files, and rasps. As for furniture, it's not well-suited for traditional furniture, but I think that if you're going to stray from traditional techniques and forms (no high-boys!) that you could use it. It would need to be painted or veneered (with either wood or some funky laminate)."
In chatting with my colleagues about MDF, four of the most common topics we touched upon were weight, dust control, vapors, and fasteners.
If you're purchasing 4-ft. x 8-ft. sheets of MDF for a specific project, consider having it pre-cut to rough sizes before loading your car and taking off. MDF is a heck of a lot more dense–and heavy–than conventional plywood. Cutting it down to size beforehand will keep your back happy.

Perhaps the single most important key to working with MDF is dust control. Use a dust mask, tool source dust control and a workshop air filter (if you have one). Long story short: the more dust control, the better.

Stay away from nails and pre-drill all your screw holes. MDF edges are very brittle, so pre-drilling and countersinking are a must.

Be sure you've got adequate ventilation. While ventilation is a good idea anytime you're kicking up sawdust, it's especially true when cutting MDF. The formaldehyde vapors given off by this product need to go somewhere. Better that it go out a window or door than into your precious lungs.

Consider gloves. The MSDS (Materials Safety Data Sheet) of manufacturer Temple Ingland suggests woodworkers use gloves while handling MDF in the shop. And while a conventional dust mask is OK, these folks recommend using an NIOSH/MSHA approved respirator instead. You can easily find a decent respirator for around $40 and you'll find plenty of other uses for it in the shop, so don't hesitate to purchase one if you do intend to use MDF from time-to-time.
How's it Made?
In a nutshell, MDF is made by breaking down wood into wood fiber, combining it with a urea-formaldehyde resin, and compressing it at a high temperature. For a quick peek at the process, have a look at the "how it's made" video below. Interestingly, the video's producer didn't even mention the use of formaldehyde. I can't help but surmise that this was funded by a manufacturer worried about mentioning the dreaded "f" word.
How to Work with MDF
We've been covering the use of MDF here at Fine Woodworking since the early 1990's. For a complete picture of what it is and how to use it in a variety of applications, have a look at our resource roundup.