Spalt Your Own Lumber: Lets Talk About Health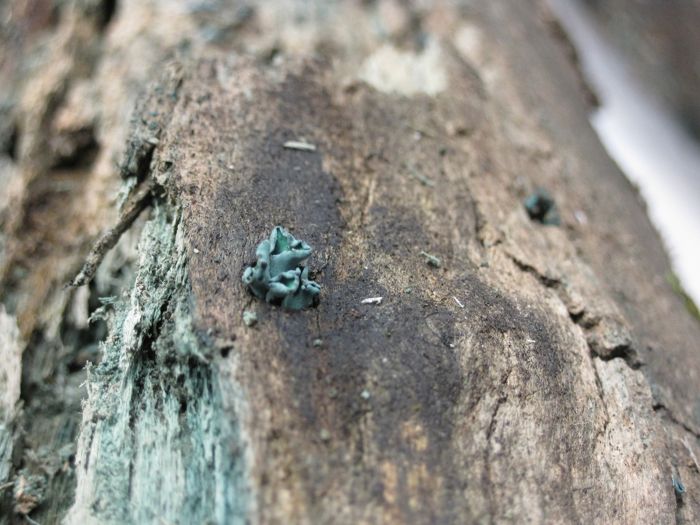 Obviously, its been a while since my last post. Spalting has a way of bringing people of strong opinions out of the woodwork and into the limelight of the internet. Hence, I've needed some time to consider how to proceed with this blog since, quite frankly, its exhausting to continually have the same argument about health problems and spalted wood.
So instead of continually repeating myself, I think its best to have a new health post (apparently the last one wasn't enough) that can serve as a focal point for all future posts. But first, I think we might need a little background on fungi.
What Is A Fungus?
A fungus is a filamentous organism, meaning it grows in strands. The strands, called hyphae, are individually many times thinner than a human hair. When a whole bunch get together, you can see the fungus with your naked eye (think green stuff on cheese). In order to better colonize the world, fungi produce spores, which, in a very abstract sense, are kind of like little fungus eggs. These spores come from special apertures on the hyphae, and are thus also very, very small.
Some fungi produce fruiting bodies, which is fancy scientist talk for mushrooms. Mushrooms are just another way to distribute the spores. So if you think about it, fungi all over the world are producing spores. And because these spores are so small, they're caught up in the air. And that means fungi are everywhere. They're in the air we breathe, both inside and out. They're in your food (blue cheese, anyone?), in your wood (wood decay is a natural forest recycling method), and even in you (yeast is within the Kingdom Fungi).
Chlorociboria delights in sending out its spores, but hiding its fruiting bodies.
So, Why Aren't We All Dead?
If fungi are everywhere, if the air we breathe is laden with fungal spores, why aren't fungi sprouting from us at every turn? First of all, we have this handy thing called an immune system, which allows our body to recognize foreign material and destroy it. This is one of the reasons why people with compromised immune systems (like those who have been through chemotherapy) get sick a lot. When you read in the news that someone died from a fungal infection, its generally because their immune system was down, either because of a disease like AIDS, or because they were on immuno-suppresants.
Another interesting thing about our bodies is that they have a very specific internal temperature – 98.6 degrees F (37 degrees C). Fungi don't like this high of a temperature, and have optimal growth rates around 27 degrees C. Quite frankly, our bodies are not exactly paradise for a fungus. There are a whole lot of nicer places to live than in a broiling hot place where you're constantly under siege.
Mycoacia fuscoatra is gonna get you! Well, probably not, but it does seem to be reaching for something.
But Wait! What About Allergies!?
Ah yes, allergies. Fungi do have a way of making many people sneeze, especially in developed countries where we keep our houses so clean that our bodies forget how to not overreact to foreign substances. Fungi, primarily the spores from fungi, can really irritate some people. Asthma suffers sometimes have problems with fungi as well. But its important to remember that sneezing isn't going to kill you, although with the associated sinus congestion you may wish you were dead. You have to remember that lots of things make people sneeze (dogs, cats, pollen, dust, grass, homework, etc). I'm deathly allergic to cats, but I don't go around harassing cat owners about the dangers of having cats in their home. I just stay away from cats, because I know my body reacts to them. Hmmmm.
After All That, Couldn't You Conclude That Spalted Wood Is Dangerous?
Sure, fungi can be dangerous. Some mushrooms are poisonous if eaten, some fungi produce toxic substances that can hurt your body, and some have been known to grown in the lungs of immunocompromised people, leading to serious health problems. So certainly, those with health problems shouldn't work with fungi extensively. But as we've already established, fungi are everywhere. Not working with spalted wood isn't going to significantly decrease your chances of getting a lung infection if your immune system isn't doing its job. Turning a piece of spalted wood is going to give you the same does of fungal spores as taking a hike in the woods in late summer, especially if you like to poke around the leaf litter and look at things.
Putting Things Into Perspective
Working with wood is inherently dangerous. Not only are the machines capable of removing various body parts in seconds, but wood dust is a nasty carcinogen (it causes cancer!). OSHA is pretty serious about the trouble you can get your lungs into if you're not wearing respiratory protection when you work with wood. When I make the statement that working with spalted wood is no more dangerous than working with unspalted wood, you need to think about all the danger you have already put yourself in. Even with clear lumber, you are subjecting yourself to potential impalement (nail from nail gun into a hand, perhaps?), dismemberment (losing a finger on a bandsaw), and a very debilitating form of cancer (lung cancer is hard to treat). With all that going on, why in the world would you be worried about fungal spores floating around your workshop?
spalted wood – pretty and not inherently dangerous
Consider The Following:
Lets say you accidentally left a piece of wood sitting outside for a summer. You pull it into your workshop in the autumn and it has miraculously spalted! Woohoo! But wait – how did this happen? It happened because those spores in the air landed on your wood and started to grow hyphae. The hyphae conglomerated into a mass and grew further into the wood, altering its structure and changing its color. When you went outside to check your piece of wood, you no doubt got a lung-full of spores, although not necessarily the ones from your wood.
Now let's consider clear wood. You bring home some nice, planed lumber from the hardware store. That lumber has been sitting around, outside or in, for some time before being brought to your home. Its been in circulated air. The lumber was at one point wet (after the tree was cut), and may or may not have been kiln dried. Regardless, there are still fungus spores on it. The wood is dry now, so the fungus can't grow. But that doesn't mean that those spores are sitting on your wood, biding their time. Move the lumber around, and you kick up some spores. Walk around a room and you kick up some spores. Your nightly trip at 3am from your bedroom to the bathroom kicks up spores from your carpet. Fungi are everywhere.
Those scary molds that everyone is so afraid of – how do you think they got on your walls? That's right, the spores were carried there from the air. How do I get a lot of my nice colored molds in culture? I leave a wet piece of wood laying around in my office and let spores land and colonize on it. There is nothing, nothing that you find on spalted wood (fungus-wise, insects are a whole other story), that is different than what could be in the air right now. So take a deep breath. Dead yet? Nope? Didn't think so.
I Was Too Lazy To Read The Whole Article – Give Me The Main Points
To sum it all up – get over it! Fungi are everywhere. You can't avoid them, so not working with spalted wood because you don't want to breath in fungal spores is asinine. Not working with spalted wood because fungi can be dangerous is downright silly. Your table saw is much more of a threat to your health than your punky piece of wood. Besides, how are the spores even going to get into your lungs if you're wearing a good respirator? And if you're not wearing a respirator, you'll need to get that pesky lung cancer thing taken care of anyway, so who cares if you get some spores a-sproutin?
There will always be people who know people who worked with a guy who died because he turned spalted wood for 50 years. There will always be people who see mold (mold is just a type of fungus, btw) and freak out. Its important to remember that:
the human race appears to be doing pretty well, considering that our air is a fungus-spore dance party
our bodies are not hospitable places for fungi to live, even in the lungs
if your immune system isn't up to par, a lot of things could kill you, including fungi
working with wood brings a whole host of safety concerns, of which fungi should be the lowest priority
living your life in fear is no way to live
and finally – google is not a reliable means by which to 'prove' that spalted wood is dangerous. Anyone can post things on the internet. Anyone.
And Finally . . .
I always appreciate valid concern. There are no dumb questions when it comes to fungi, but conjecture is not a valid way to back up an argument. I don't expect to change years of internet and verbal folklore on fungi just from this post. But I do hope that you, as a concerned woodworker, will take the time to actually look into fungi. Spend some time on Google Scholar (www.scholar.google.com). Read some academic papers. Or just chill, and consider the possibility that our bodies are incredible machines, able to protect us from repeated onslaughts day after day, minute after minute. The human race would not have endured for this long if all it took to bring us down was a nose-full of fungal spores.
A nose-full of cat dander, on the other hand, is a whole different story.
http://www.northernspalting.com
Elf Cup (Chlorobcioria) on a very, very decayed log.
A fungus battlefield. Imagine the carnage!
Mycoacia fuscoatra, lookin lively.