Sleek Console Built for Today's TVs
Low enough to fit under a flat screen, big enough to store piles of components and media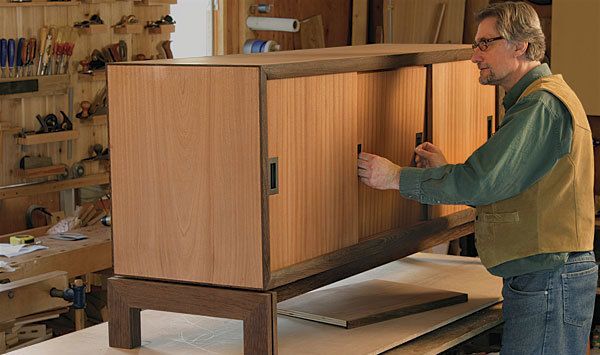 Synopsis: This sleek entertainment credenza has clean, crisp lines. It offers plenty of storage, with easy access to electronic components from both the front and rear, and the design can easily be modified for individual needs. This version is built from 3/4-in.-thick sapele plywood and solid sapele and wenge, all available from most lumber suppliers. The plywood sections are joined with slip tenons. A beefy framework in the back keeps the case square. Inside, the credenza has three compartments hidden by three sliding doors.
I was the last man on my block, maybe in the entire country, to buy a widescreen digital television. Like many people, I used to hide my television in an entertainment armoire, but the latest flat-screen televisions have a modern look that I find attractive. Also, it takes a pretty huge cabinet to contain them. So instead of hiding the TV, I hung it on…
Start your 14-day FREE trial to continue reading this story.
Get the Plan
Digital plans, a cutlist, and a SketchUp drawing for this project are available in the Fine Woodworking store.
Buy The Plan