How to Glue-Up Joints: The right number of clamps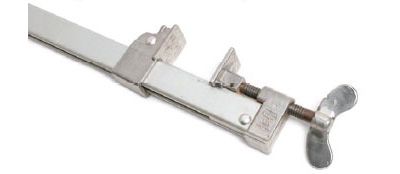 Most woodworkers are underclamping their joints during glue up. To help avoid this, professor Roman Rabiej developed some simple keys to clamping success. (Read the full article on the topic.)
One of the keys is to use the right number of clamps for the job. So Fine Woodworking tested common bar clamps to determine the strenth of each.
The force applied by each type of clamp varies greatly depending on the strength of the operator. FWW conducted a test using four different staff members; two Fine Woodworking editors, our female copy editor, and a brawny Fine Homebuilding editor. The numbers in the chart are the average of the FWW editors. The copy editor in our test consistently applied about 60% of the average clamp pressure, while the hand strength of the FHB editor was about 40% higher.
Parallel Jaw Clamp
370 lb.
Quick-Grip Clamp
470 lb.
Aluminum Bar Clamp
680 lb.
3/4-in. Pipe Clamp
1,050 lb.
"I"-Beam Bar Clamp
1,350 lb.
Details on the test
In his book, Understanding Wood (The Taunton Press, 2000), R. Bruce Hoadley illustrated that the amount of force applied by different types of woodworking clamp varies widely. He also found that the force of an individual clamp can differ by a factor of two depending on the strength of the operator.
To compare traditional bar and pipe clamps with newer designs and to see how the force they apply varies by user, Fine Woodworking rigged up a jig linked to a set of bathroom scales. The magazine's female copy editor represented one end of the strength scale, a brawny former builder at Fine Homebuilding represented the other, and a couple of Fine Woodworking editors fell in between. Generally, clamps with T-handles exert more pressure than those with round handles.
Calculating Clamp Requirements

The first step when gluing boards is calculating the square inches of glue surface. For example, if you are gluing two boards 3⁄4 in. thick and 36 in. long, a single glue surface equals 27 sq. in. Even if you are edge-gluing several boards, you still need to measure only one glue surface because the clamping pressure is transmitted across the width of the boards. If you are edge-gluing flatsawn red oak boards and wish to apply about 450 lb. psi, then 27 multiplied by 450 equals a force of 12,150 lb. that must be applied. Using the average of the editors' clamping forces, this could be supplied by around nine heavy-duty bar clamps, a dozen 3⁄4-in. pipe clamps, or 26 quick-grip clamps. Obviously it would be hard to fit 26 clamps along a 36-in. board, so add some more powerful clamps if you have them. It's fine to mix and match types of clamp.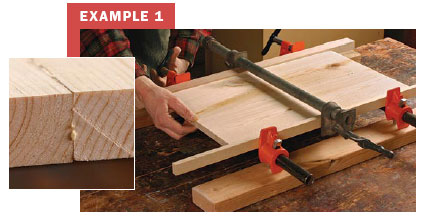 Less pressure for pine. These two pine boards have a glue surface area of 16½ sq. in. Because the glue faces are nearly flatsawn (see inset), the recommended pressure is 150 psi, requiring a total force of 2,475 lb. This can easily be met by using three ¾ -in. pipe clamps.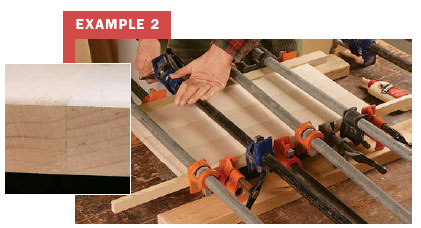 More pressure on maple. The effective glueline area is the same as for the pine (even though there are three boards to glue instead of two). The glue faces are quartersawn (see inset), so the recommended pressure is 600 psi. This total force of 9,900 lb. requires nine pipe clamps.
Once you've determined the right type of clamps to use, you need to determine the best way to distribute them.
How many clamps do you need? Use the formula below and details from our test of common wood clamps (see below) to find out.
Less pressure for pine. This glue up with pine boards only requires three clamps. See details below.
More pressure for maple. This glue up with maple required nine clamps. See calculation details below.
How many clamps do you need? Use the findings from our clamping pressure test and a special formula to find out. Read details below.