How to Glue-Up Joints: Positioning the Clamps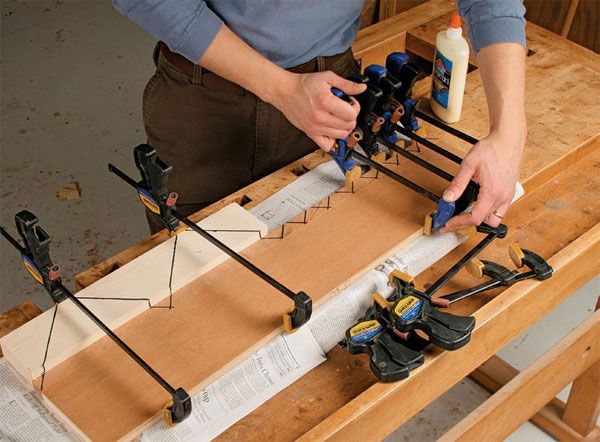 Many woodworkers are underclamping their joints during glue up. To help avoid this, professor Roman Rabiej developed some simple keys to clamping success. (Read the full article on the topic.)
One of the keys is to distribute the pressure effectively.
Put the pressure where you need it
Just as important as the overall force of the clamp you're using is how it is distributed. You want even pressure along the whole glueline. This can be done in two ways. The force from a clamp spreads out in a 45º cone from each head. For the cones to overlap and the glueline to receive even pressure, the clamps need to be spaced correctly. The 45º angle makes the cones of pressure easy to measure. The force will radiate sideways in both directions the same distance as the clamp is from the glueline.
Clamping wide boards
So, in the example below, the 6-in.-wide board creates 12-in.-wide cones of pressure at the joint.
When edge-gluing wide boards, such as for a tabletop, you can employ powerful clamps spaced widely, alternating the clamps above and below the workpiece to prevent the boards from bowing.
Clamping thin edging
If the glueline is close to the face of the clamp, such as when applying solid-wood edging to plywood, to avoid having a clamp placed every inch or two, you can use wide cauls that will spread the clamp pressure as well as protect the edge of the workpiece from the clamps.

Where the glueline is close to the clamp head, place the clamps very close together or use a wide caul. Otherwise, some parts of the glueline will not receive sufficient pressure.
Last, to round out this series, here are some tips on applying glue.
A key to successful glue up is distributing clamping pressure effectively. Cauls spread the force. When clamping a narrow strip, the clamps have to be close together in order to have the pressure cones overlap (at right in photo). A solution is to employ a wide caul that spreads out the force before it meets the glueline (at left).
How to clamp up wide boards.
How to clamp thin edging.