Top 7 Woodworking Pet Peeves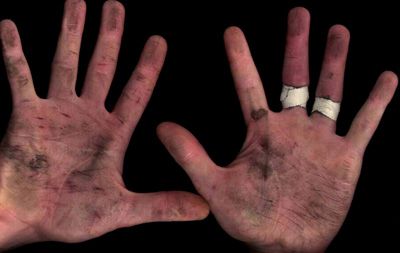 As I type my hands are stained purple, I've got a nasty paper cut, and there's dried glue on my new pants. All thanks to my woodworking habit.
Don't get me wrong, I love building furniture. But it comes with consequences.
I asked around the office and it turns out the white oak I've been milling up all week is the cause of the purple stain on my hands. The tannins in the wood reacted with my skin chemestry similar to the process of fuming or ebonizing. Well that stinks. No amount of scrubbing and orange soap will remove the stain.
This latest turn of events inspired me to come up with my list of woodworking pet peeves. I tried for 10 but could only come up with seven; I suppose that's a good thing.
TOP 7 WOODWORKING PET PEEVES
7. Twists in Resawn lumber: The great thing about buying rough lumber is that you can resaw thick boards into veneers and bookmatched pieces. But nothing is more frustrating than splitting a board in two only to have it twist and warp beyond repair.
6. Gluing up furniture parts backwards. There's nothing worse during the glue-up process than assembling your parts only to find out that you put a piece in backwards or upside down. Here's a tip on keeping track of parts.
5. Wood movement. I know, wood movement is natural. But couldn't Mother Nature invent a tree that didn't shrink and expand with changes in humidity? And I don't mean plywood or MDF.
4. Wear and tear on your hands. As I noted earlier, I learned the hard way that white oak can turn your skin purple. Equally as annoying is how wood can dry out your skin. Maybe it's an East Coast thing, but every winter my hands turn dry and crack something brutal whenever I'm in the shop. Finally, there's the dreaded splinter. For more on this see Tom McKenna's recent post for splinter removal techniques.
3. Sharing tools. I mostly work in a community workshop so this is a regular problem for me. I could strangle the guy who left the tablesaw blade set to 89 degrees!
2. Dings in a finished workpiece. There's nothing worse than dropping a workpiece after you've just finished preparing the surface with a plane or sandpaper and ending up with a big ding. Here's the best technique I've seen for getting a ding out.
1. Dried glue on my clothes. No amount of washing or picking will remove dried glue from your shirt or pants. In fact, the clothes dryer only bakes it in. Worst of all, dried glue looks like old boogers. Not a great fashion statement.
What irritates you about woodworking? Post a comment to add to the list.