Round the Edges of Every Plane Blade?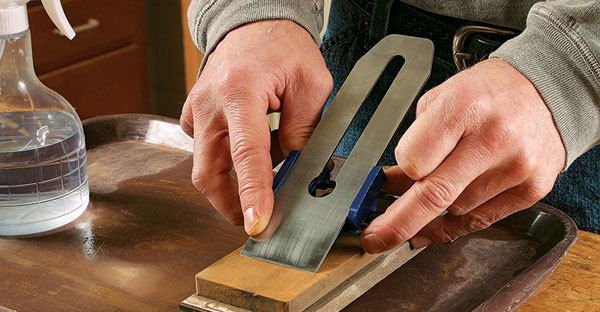 QUESTION:
I've read that the cutting edge of a plane blade should be slightly cambered. Why? And should I do it to all of my plane blades?
Kevin Lavois, Holyoke, MA
ANSWER:
No, you shouldn't camber all of your blades. Some need to be straight to perform their jobs.
The blade of a shoulder plane or rabbet plane should definitely be left square, because you can't trim a tenon shoulder square or cut a square rabbet with a rounded blade.
And I keep the blades square on all of my bench planes, except for my smoother. But I do round their corners slightly so that they don't cut tiny steps into the surface. A straight edge is also easier to maintain, which is an important consideration if you use your bench planes a lot.
But there's good logic in slightly cambering the blade of a smoothing plane. A cambered blade leaves no marks, and so a cleaner finish, on the surface. The blade only needs a slight camber, just a couple thousandths of an inch. It can be achieved by alternately applying a bit more pressure at each corner when honing.