Rockler - All-Terrain Mobile Base
Rockler's All Terrain Mobile Base is easy to assemble and adjusts from 18 in. to 28 in.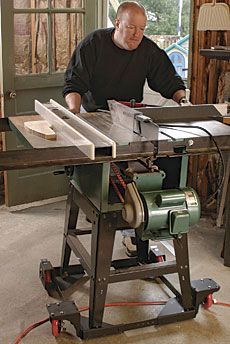 I work in a corner of my basement, so I keep several machines on mobile bases, moving them as needed. It's not always easy, as space is tight and the mobile bases I have are not very mobile. So I was eager to try Rockler's All-Terrain Mobile Base on my bandsaw and tablesaw. It features larger-than-usual 5-in.-dia. wheels, with urethane tires. Two swivel, and two lock. The base is easy to assemble and adjusts from 18 in. to 28 in.
The Rockler base made it easy to zigzag around my workbench and other machinery. To test its off-road capabilities, I made a proving ground of extension cords, sawdust, chips, and wood scraps. My bandsaw and tablesaw rolled effortlessly across all the debris, though I had to hold the tall bandsaw with extra care to prevent it from tipping as I pushed. Also, the bandsaw had some problems while parked. The large, soft wheels give the base some spring, making the bandsaw feel unstable. Also, when I'm cutting curves, I stand close to the machine, and the wheels and housings often interfered with my footwork.
I wouldn't use the base on a bandsaw, but it certainly has found a home on my tablesaw. The All-Terrain Mobile Base costs $190 and is available from Rockler (www.rockler.com).