Can Fine Woodworking and art furniture coexist?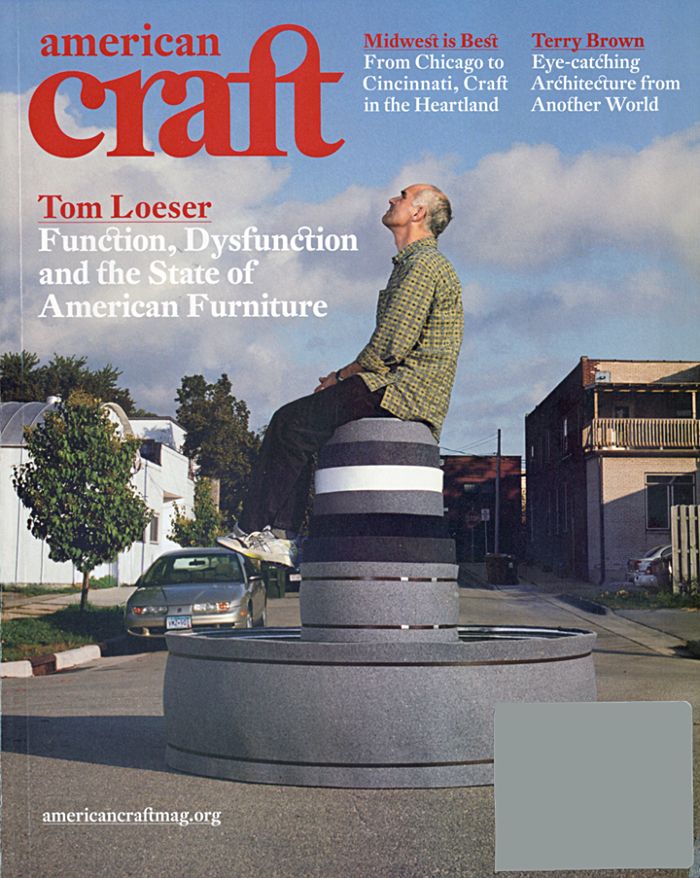 In the January issue of American Craft magazine, Univ. of Wisc.-Madison professor Tom Loeser takes a shot at Fine Woodworking: "I think the woodworking world is too small, too limited, and too defined by Fine Woodworking magazine," he said. He might be surprised to find out that I agree with him–to a point.
The studio furniture-maker explains, "With woodworking, once you are taught fine joinery it's very hard to go back to cruder techniques." Right again. I see a lot of woodworkers who start with the joints they consider to be "fine" and the techniques they are comfortable with, and design projects around them. For contemporary furniture at least, this is often the wrong way to go. As Michael Fortune pointed out in a recent design article (in that same tunnel-visioned magazine, FWW!): Design first, engineer second. "[During the design phase] your creative process can be restrained by your existing knowledge of how to work with wood, so don't worry about the details of the 'how-to' during this time," he writes.
One thing to understand about Fine Woodworking (the magazine and website) is that it is a business, by necessity, and as such it must respond to its readers' needs. The vast majority of woodworkers are most comfortable working in a traditional mode, building practical, solid-wood furniture for their homes. As I have described in some recent Knots postings, we can't be all things to all people. There are many wonderful aspects of the craft that we can't do justice to: boat-building, lutherie, etc. Art furniture is one of those areas. We spend our limited pages on articles that will help the most woodworkers. That's why you see us focus on practical furniture, boxes, and turnings. Those are what most people are making.
But here's where Loeser is wrong. Fine Woodworking magazine has narrowly defined the craft for many woodworkers, but it hasn't for many others. In other words, it doesn't have to. I have met many young furnituremakers at design competitions, mostly students at art and design schools, who simply use FWW as a resource. From artists who have designed completely sculptural and/or modern pieces in mixed media, I hear quotes like, "I come from an art background, so I use your magazine when I'm looking for a good way to join wood pieces." These students have no prejudices. They are more likely to cook up a weird plywood spline or use screws or biscuits than they are to take the time to make a true mortise-and-tenon. And that is just as it should be.
Other woodworkers, some featured in this magazine, have used traditional joinery as a jumping off point, taking it places the old craftsmen never dreamed. Check out this bench by my friend, John Nesset.
Enough out of me. I'll be interested to see where all of you weigh in on this question.