Welcome to a New Woodworking Journal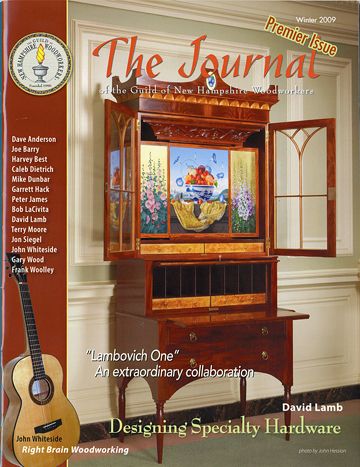 I've been a print journalist my entire adult life, so this is a gloomy time. Big media companies are hurting. Publishers declare bankruptcy on an almost daily basis. Reporters and press operators by the score get the old heave-ho. Even my hometown paper, Denver's Rocky Mountain News, folded today just a few weeks shy of its 150th anniversary.
Against this backdrop, it was especially refreshing to see a new magazine arrive in our offices. It's the premier issue of The Journal of the Guild of New Hampshire Woodworkers, published by one of the best woodworking associations in the country. The new magazine represents a huge step in the evolution of the Guild's publishing efforts. Just a few years ago, the Guild published only The Old Saw, a black-and-white newsletter. Then the staff added color photos and fancier, more professional page layouts, and interspersed guild news with substantial articles about woodworking.
As editor Jim Seroskie writes in his editor's note: "The quality and quantity of our content has exploded as the general membership has become involved in writing and photography to an extent that I never imagined." So The Old Saw once again becomes a newsletter, online only, with the new Journal deovted to those longer, meatier articles about all aspects of woodworking. "The Journal is then freed to be the best that it can be without compromise, written by a talented, diverse, and largely local group of woodworkers," Seroskie writes.
What a group those locals are: Garrett Hack, a longtime FWW contributing editor; Mike Dunbar, who has written extensively for FWW over the years; Jon Siegel, a prolific woodturner and FWW author; and nearly a dozen more. The cover article by David Lamb, a well-known period furniture maker, describes his collaboration with artist James Aponovich to create a Federal-style secretary with painted trompe l'oeil panels and custom-made brass hardware.
Judging from the premier issue, the Journal, a 48-page quarterly, can certainly hold its own with any of the other full-fledged woodworking magazines out there. For more information, check the Guild's web site. Here's wishing the Guild success with its new publishing venture.