Router Jig for Keyed Miter Slots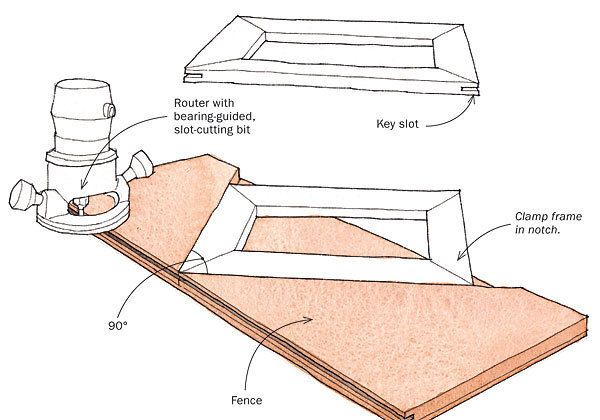 When building a large picture frame for a friend, I needed to add keys to the miters for strength. The problem was that the frame was more than 60 in. long on each side. In the past, I had always used a simple cradle jig on the tablesaw to hold the frame upright while cutting the slot. But this frame was much too large for that. My solution was to use this simple fixture and a bottom-bearing-guided, slot-cutting bit in a router.
To make the jig, cut two plywood pieces at 45° and attach them to a 1/4-in.-thick plywood base so they meet at 90°. The fences should be the thickness of or thicker than the frame, and the base should be sized so that it supports the frame sufficiently. To use, clamp the frame into the notch and run the bearing-guided router down the fixture to cut the key slot in the corner of the frame. You'll need to make test cuts to get the slot height just right.
Drawings by Jim Richey

Drawings by Jim Richey