Undermount Drawer Slides
We test 9 models, and show how to use these invisible slides in all types of cabinetry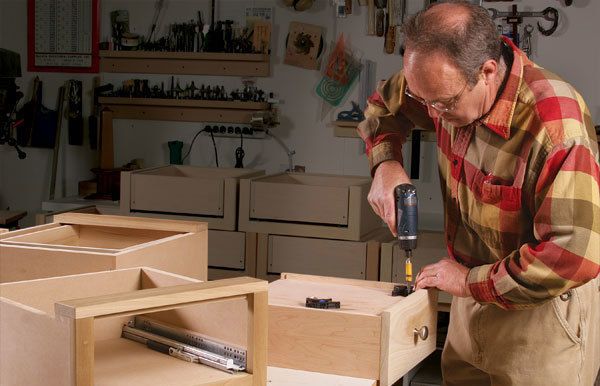 Synopsis: Undermount drawer slides are the hardware of choice for most custom cabinetmakers and high-end manufacturers these days. Do they have a place in fine furniture making? Biill Duckworth tested nine high-performing undermount slides that he believes deserve a place in the fine furniture shop. He compared price, ease of installation, and in-use features, and come up with five standouts: Accuride Eclipse Easy-Close, Accuride Eclipse Self-Close, Blum Tandem Blumotion, Hettich Quadro IW Silent System, Knape & Vogt In-Line 9400 series.
I used to make cabinets for a living and have a vivid memory of one client in particular, an antiques dealer for whom I built a new kitchen. When she pulled out one of the drawers for the first time, she marveled at how smoothly it opened and closed— unlike the drawers in so many of her antiques. I felt a bit guilty for taking the credit; after all, it was the ballbearing slides on those drawers that made them so easy to operate. That was 20 years ago, and the slides were the side-mount variety typical of the time.
Nowadays, you rarely see side-mounted slides. Most custom cabinetmakers and high-end manufacturers have switched to under mounts for all of their premium-quality kitchen, bath, and bedroom cabinetry, as well as built-ins, entertainment centers, and home-office furniture.
Undermount slides range in design and price from simple and inexpensive (as low as $5.25 a pair) to complex and pricey (as high as $47 a pair). While all models make opening and closing drawers easy, only the high-end versions have features worthy of fine furniture and cabinetry. For that reason, I limited the tests for this article to high-performing slides, comparing nine widely available models for price, ease of installation, and in-use features. Then I narrowed the pack to the five standouts shown at right.
I'll also present a series of installation tips for making a typical undermount slide work in almost any cabinet or case you build, with any type of drawer.
The pluses and minuses of under mount slides
One obvious reason for the popularity of under mount slides is that they're hidden from view. This is a bonus for furniture makers, who—let's face it—don't like to admit to using metal in their work. Still, I think the real selling point for under mount slides is the self-close and "soft"-close features that many now offer.
Both features involve mechanisms in the tracks that pull the drawer fully closed once it has been pushed most of the way in. All the slides tested have this feature. But six have the more impressive soft-close feature. Another advantage of the new line of under mounts is strength. I filled each drawer with heavy shop tools, and every slide easily carried more weight than its listed load rating.
From Fine Woodworking #198
For the full article, download the PDF below:
View PDF