Drawer Essentials
Sort out design, construction, and hardware details when making drawers for furniture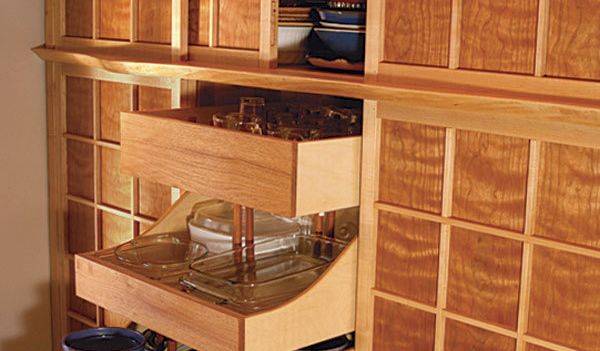 From quick and easy to hand-cut and fussy, there are a number of ways to design and construct drawers for furniture. Depending on the project and your skill level, consider these options before you get started:
The Basics:
• Choose a method of construction: Drawers range in difficulty from traditional dovetailed drawers to quick and sturdy drawers assembled with nails or simple joinery.
• Dress up a design: Customize a drawer with handmade hardware, cock beading, or make them curved.
• Fitting and installing drawers: Whether you're using commercial slides or making an inset drawer, installation is half the battle.
Choose a method of construction
Traditional dovetailed drawers most commonly are constructed with a back attached to the sides with through dovetails, and a front joined to the sides with half-blind dovetails. This way the joinery on the drawer front is concealed when the drawer is closed and it is strong enough to withstand years of pulling. With this method, secondary woods are often used for the sides, back, and bottom while the front is made from a decorative cabinet wood.
There are a number of alternatives for making quick-and-easy drawers using basic power tools, such as a tablesaw and router, and fasteners such as nails or biscuits. These techniques should be considered when making utilitarian drawers like those for the shop or for a no-frills kitchen cabinet. One step up from this simple method of construction is drawers assembled with finger joints or box joints.
Dress up a design
There are a number of advanced construction techniques that can. A curved front can be constructed with a bent lamination or shaped from thick stock on a bandsaw. Still more advanced are the serpentine drawer front and the inverse ox-bow drawer front. You can also dress up a drawer with cockbeading and custom knobs and pulls.
Fitting and installing drawers
Whether you use commercial drawer slides, handmade drawer slides, or none of the above, installing a drawer with good results takes planning and patience. A successful installation of a flush drawer front will have an even reveal, or spacing, between the drawer face and the drawer opening, and will accommodate wood movement.
Andy Rae is a furniture maker, teacher, and author of the book Building Doors and Drawers (Taunton Press, fall 2007).