Sculpt Your Own Hardware
Have your wax design cast in solid bronze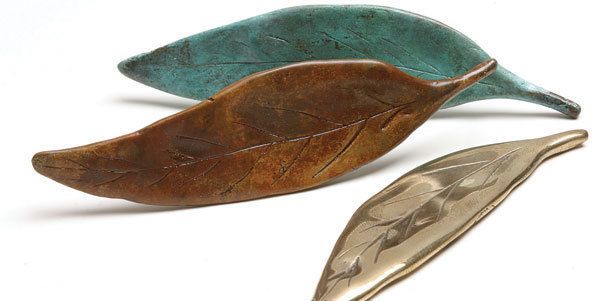 Synopsis: Ever looked for the perfect pull to complement that finely crafted cabinet or drawer? You might do as Harold Greene occasionally does, and sculpt your own. After creating a mockup to gauge the size and design in relation to the piece, he models his original creations in microcrystalline wax, and then ships them to a foundry where they are cast in bronze using the lost-wax process. Here, Greene demonstrates how to sculpt the wax original, create a mold so that original can be duplicated, and then how to clean up and finish the bronze casting when it returns from the foundry. This is a simple yet creative process that is not prohibitively expensive. And at the end, you'll have hardware that is truly one of a kind.
I began creating my own bronze hardware after I looked in vain through various catalogs for a large, decorative pull for a cabinet that would attach to one door, yet be centered on both doors. The bronze pull I ended up making complemented the piece so perfectly that I've since made dozens of designs using this simple yet creative process.
Working with wax
After drawing front and side elevations of the hardware (in this case two eucalyptus-leaf pulls for the drawers of a desk), I often make wooden mock-ups and use hot-melt glue to attach them in place to get the proportions just right.
I use microcrystalline wax to make my original model. It's readily available from art-supply companies or Amazon.com and usually comes in a 1-lb. to 3-lb. block. Break some off and melt it at around 180ºF in a double boiler (the wax is flammable). Pour it into a container formed from aluminum foil that is roughly the shape of the casting. Once the wax hardens, it's ready to carve.
Wood-carving gouges and utility knives are great for roughing out the shape, while a variety of tools including dental instruments are excellent for fine details. Mistakes can be fixed easily by adding hot wax and then reworking the area. You can smooth a rough area by applying a propane torch for a split second, and minor blemishes can be removed by rubbing the surface with your warm fingers.
Making multiples of the same design
You could stop here and mail the wax original to the foundry, but even if you only want a single casting, I urge you to make a copy in case the original is damaged or the casting goes wrong. Of course, some pieces, like chests of drawers, require a set of four, six, or eight pulls, and the same number of wax copies.
To make a copy you'll need some liquid latex rubber (Mold Builder from www. eti-usa.com) and a piece of Plexiglas or melamine. Attach the wax original to the Plexiglas with melted wax. Make sure there are no voids under the piece.
Brush on a thin coat of latex, making sure no pools form in the crevices. Extend the latex about an inch around the original to form a kind of flange. You want the latex to contact the entire surface of the wax, so use a hair dryer to blow out any bubbles on the wet surface. let the latex dry until it appears translucent, and then repeat this step nine or 10 times.
From Fine Woodworking #197
For the full article, download the PDF below:
View PDF