Shop Fox - Shop Fox W1748 Hybrid Tablesaw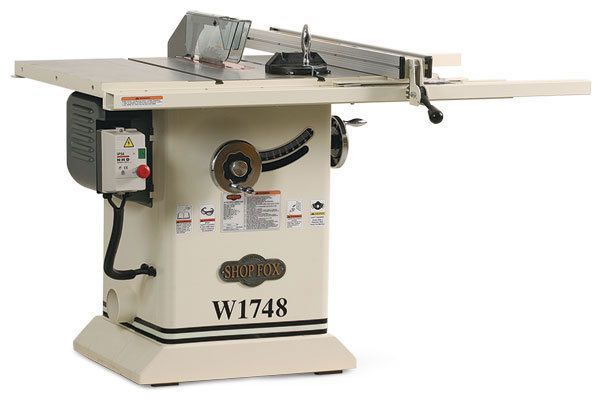 Manufacturer:
Average Price, Weight, Market Availability, Dimensions,
Max Rip Capacity, Dust Collection, Fence, Horsepower, Amps, Volts, Table Size, Blade Size, Blade Tilt
Editorial:
Table Flatness, Parallel Test, Arbor Runout, Noise Level
Most of us raise and lower the blade often, so a blade-elevation crank that's difficult to turn is an annoyance that's hard to ignore. The General, Grizzly, Shop Fox, Jet, and Woodtek saws got good marks here. All of them had a good-size handle with smooth-turning gears inside
Blade and power-cord plug not included; blade-elevation crank easy to turn; poor parallelism (required difficult adjustment, but manual covers it).
On the other eight hybrids, the trunnions are attached to the underside of the table, where they are much harder to access. The good news is that any adjustment should be a once-in-a-lifetime event.
All the miter gauges in this group were adequate, but those of the Grizzly, Shop Fox, and Delta stood out as especially sturdy and comfortable.