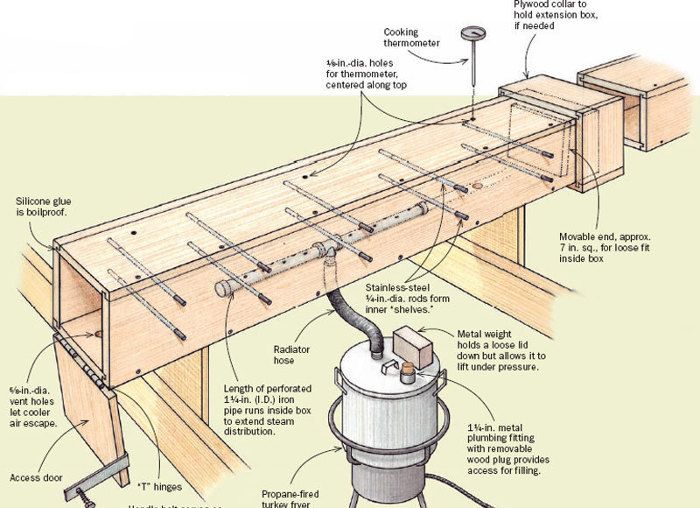 Q:
Great article by Michael Fortune on steam-bending (Master Class, FWW #193). Now, how do I make that wooden steambox?
Rainer Vollmerhaus, Toronto, None
A:
Make the box from 3/4-in. exterior plywood. Unlike interior ply, it will withstand the steam and last for years. Don't paint or line the wood, or dampness will lie against the surface, promoting rot. The length of the box is up to you. Mine is 48 in. long, but it's made to accept extensions (see drawing).
Make four identical sides from exterior plywood. Build the length to suit your needs but keep the interior space to about 7 in. square. A propane-powered turkey fryer filled with 3 to 4 gallons of water will produce enough steam for most projects.
Keep the interior of the box to roughly 7 in. wide by 7 in. tall. That's large enough for several good-size blanks, and compact enough to easily maintain the necessary 200°F temperature. Holes drilled in the top let you check the temperature with a probed cooking thermometer throughout the steaming process.
Attach a hinged access door to one end of the box. A 7-in.-sq. piece of plywood fits loosely into the other end. Sliding it up close to the blanks minimizes the space to be steamed.
Pins inserted horizontally form two "racks" for the wood blanks. In use, the top rack should be loaded first to take advantage of the hottest steam.
The most reliable steam-maker I've found is a propane-powered turkey fryer, available at hardware stores. With this setup, 3 to 4 gal. of water will generate all the steam you'll need for most bending projects. However, until you're accustomed to the timing of your specific setup, check the water level every 20 minutes. Lifting the lid briefly to check will not affect the steaming process. Nor will adding water when the level is low.
Pressurized steam is very dangerous, so the entire system must have outlets. Vent the box along the bottom so the cooler steam slips out. Use a loose lid on the steam source, with a weight on top that's light enough to let the lid lift open under high pressure.
When you're done steaming, leave both ends open and let the air dry out the box.
Drawing by Vince Babak.