Free-Form Steam-Bending
Use a standard strap to pre-bend the wood, then wrap it around any form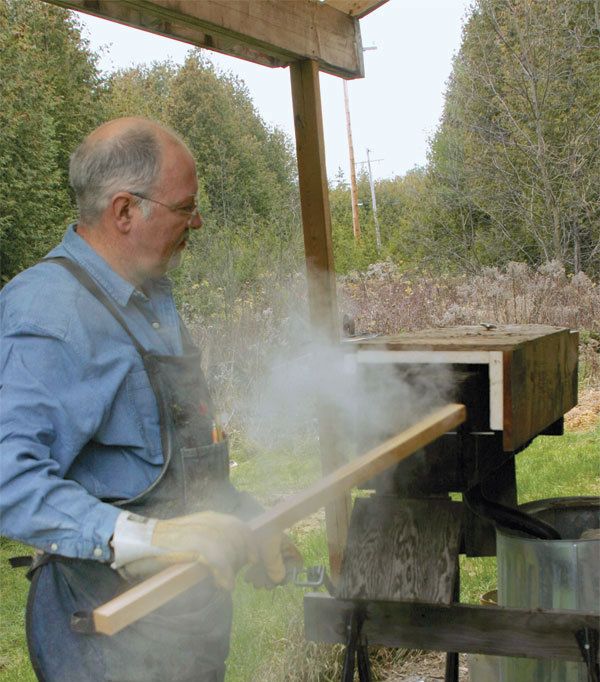 Synopsis: Michael Fortune's steam-bending technique does away with the traditional compression-strap method. He uses a compression strap, but only to pre-bend the wood. After that, his method takes a nontraditional twist. He pre-bends the wood in opposite directions, breaking the lignin bonds and making it possible to bend, twist, and form it to unusual shapes.
If you can create a shape with a strip of paper without tearing or folding it, in theory you can bend wood to that same shape. However, because wood compresses much better than it stretches, conventional steambending requires the use of a compression strap, and it can be difficult to create a compression strap for unusual shapes.
The method I'll describe uses a compression strap to pre-bend the wood, but does away with it when bending the desired shape, allowing you to bend wood through two planes at once and even twist it, adding a new dimension to your woodworking. For example, the table leg at left sweeps outward at the bottom along a 45° axis.
Bend the wood twice to make it pliable
The first step is to make a traditional bending form with a radius tighter than the desired final shape. This will allow the wood fibers to be compressed and the lignin bonds loosened in the areas that you will later bend free-form.
The blanks to be bent should be approximately 1⁄8 in. larger in thickness and width and about 4 in. longer than the final length. In this way, any torn wood fibers can be removed when the wood is shaped to the desired dimensions.
Steam the blank for an hour per inch of thickness, then take it from the steambox, secure it in the strap assembly, and bend it around the form. Almost immediately, straighten out the blank (holding one end in a vise if needed), roll it over face-forface in the strap assembly, and bend it around the form again. remove the blank from the strap and straighten it again. Now that the entire bent section has had the lignin loosened, the blank can be bent free-form without a compression strap.
Although the wood cools fairly slowly, complete all the steps as quickly as possible and get the blank clamped onto its final form. If it takes more than five or 10 minutes, the blank can be reheated in the steambox. this should take only five or 10 more minutes because the inside of the blank has remained hot.
From Fine Woodworking #193
For the full article, download the PDF below:
View PDF