Porter-Cable - 891 Router
Porter-Cable's 891 router features a built-in router lift and is available with a fixed base and plunge base.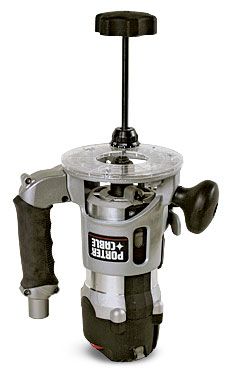 The Porter-Cable 891 router is one in a new class of routers that features an integrated router lift that makes it ideal for use in a router table. We tested similar routers from seven manufacturers. Our tests included checking runout with a dial indicator and inspected how each router worked by testing it with a tall molding bit.
Like the Triton, the Porter-Cable has a safety feature that locks the power switch in the "off" position when the spindle lock is engaged. However, changing bits on the Porter-Cable can be a chore, especially when mounted in a router table. It has a collet lock, but you can reach it only from below the table. To compensate, it comes with a pair of wrenches, one of which is cranked for use from above the table. But a plastic chip guard/dust deflector gets in the way of the wrenches and won't let the collet extend above the table. Fortunately, you can remove the guard.