A Woodworker's Odyssey
How learning from the pros can propel your woodworking skill level to unimagined heights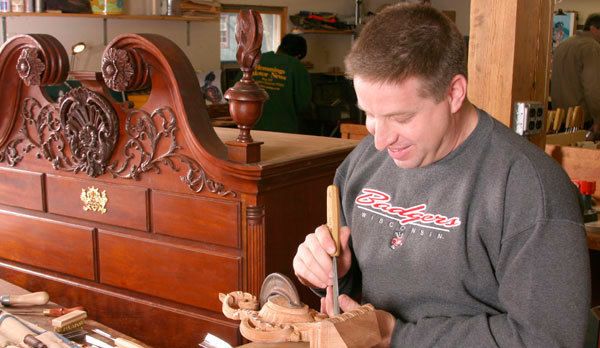 Mine is a typical story; I first caught the woodworking bug from Norm Abram and The New Yankee Workshop. My family encouraged my hobby, and I quickly acquired a full suite of marginal tools. Each project I built was an improvement over the previous, but I struggled to gain a thorough understanding of woodworking fundamentals.
Then I spotted a challenge that fueled the woodworking accelerator and launched me into a six-year odyssey: I read Randall O'Donnell's project series in Fine Woodworking (#115, #116, #117) on how to build a curly cherry highboy.
It was clear that I needed new skills in order to take on this project so I chose to take a woodworking class. Nearly 20 classes later–and 20,000 miles racked up on my car–I've realized that no other method of learning is as effective as hands-on, project-based, classroom instruction. 
Learning woodworking in the classroom
The first skill I would need to acquire to build the highboy was carving. I signed up for an eye-opening course with Leonid Zakurdayev, a master carver who speaks in broken English but dispenses infinite knowledge. Zakurdayev was a leading carver in Russia for many years before immigrating to the U.S., and watching him effortlessly form an acanthus leaf from solid basswood was amazing. It became obvious that one course wasn't going to make me a good carver, so I continued courses with Zakurdayev and expanded my quest with more skills-based classes from instructors like Lonnie Bird, Alan Lacer, and Mitch Kohanek to refine skills in period carving, turning, and finishing, respectively.
| | |
| --- | --- |
|   | |
Knowledge for a price
These courses seemed expensive initially, but once I considered all the benefits–rapid learning, sound theory and techniques, resource identification, networking, and even knowing which tools to buy so that expensive mistakes can be avoided–they are worth every penny. I could have learned these techniques through other methods but would have missed the immediate, expert feedback, which accelerates skill-building.
After my first 12 classes with local instructors and some a good distance away from home, I figured I had honed the skills needed to tackle O'Donnell's Curly Cherry Highboy, but my aspirations unexpectedly changed. I sought something even more ambitious when I discovered Gene Landon's project-based classes at the Olde Mill Cabinet Shoppe in York, Penn., where Landon (see photo above) leads students through the process of crafting extraordinary museum-quality period reproductions. I signed up for his two-year class to build a remarkable Philadelphia Chippendale High Chest of Drawers. The extravagant project was intimidating, but the challenge motivated me to commit to thousands of dollars for materials and course fees, hours of work, and of course that 2,000 mile round trip commute between my Wisconsin home and the Olde Mill shop for each of seven sessions.
| | |
| --- | --- |
| | |
Total-emersion education
From the outset, it was clear that Landon's self-directed course was unlike any other I'd taken. For our first class, Landon gathered the students, gave a brief introduction of the carved legs we would make for our high chest, discussed the case joinery, and then dismissed us with: "Okay, have at it." My initial bewilderment dissipated when Landon stopped by to check on my progress. He saw my confusion, and the real teaching began. Landon has a unique ability to break down amazingly complex subjects into relatively simple steps, and he provided enough detail to get each student through the hard parts. Our results demonstrated his success.
This is the power of a multi-session, project-based course. In class you study and practice what is presented so that you can finish the task in your own shop. Knowing that you are going back for the next installment in a few months provides motivation to keep up and as each class builds on the previous and the excitement grows. This process develops a real sense of satisfaction and each step builds confidence to overcome the next hurdle. I'm also struck by just how much there is yet to learn from masters such as Landon.
| | |
| --- | --- |
| | |
Continue your learning at home
In many respects my learning adventure has been a natural progression: I was introduced to woodworking on television; learned more by  reading, watching videos, taking local and long-distance skill-building classes, and finally a long-term, project-based course. With my high chest project coming to a close I'm on the brink of finishing a project I never dreamed possible. The result is clearly something that would not likely have occurred in a lifetime of study on my own.
Joel Ficke is an engineer and woodworker in Bloomer, Wisconsin.
Read about FWW managing editor Mark Schofield's take on the Olde Mill class in The Editors Mailbox blog.
Photos: Mark Schofield