A User's Guide to Featherboards
Extra hands make machine cuts safer, cleaner, and more accurate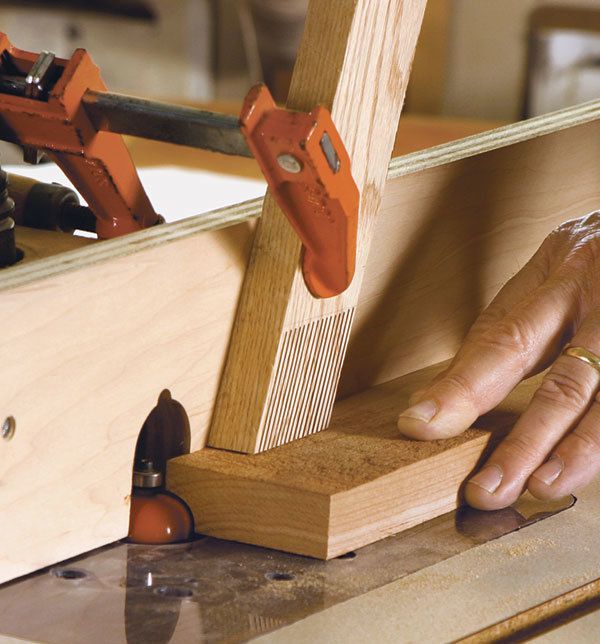 Synopsis: Like pushsticks, featherboards are an invaluable tool for keeping hands and fingers safe while using the tablesaw, router, shaper, and other woodworking machines. Contributing editor Roland Johnson is a fan of shopmade featherboards. In this article, he explains how to make a featherboard and details simple setups for using it to rip narrow stock, hold stock against a fence, hold stock against a table, and support small or thin stock safely. Side information looks at the variety of manufactured featherboards available.
From Fine Woodworking #187

Keeping my fingers attached to my hands and in good working order is a high priority in my woodworking shop. Featherboards help me do it. A featherboard is simply a board with a series of slits cut into an angled end, forming a row of flexible fingers that move much like the barbs of a feather. The fingers provide constant pressure to hold stock firmly against tabletops and fences, and the angle allows stock to pass in one direction but resists movement in the opposite direction. They do this especially well at the tablesaw and router table.
But featherboards also increase the quality of router, tablesaw, and even shaper cuts. They maintain pressure exactly where it is needed to keep the workpiece moving in an unwavering, straight line. They are especially helpful for controlling thin stock safely, a particular problem when feeding stock by hand.
This guide will show you how to make a featherboard, and then outline some essential featherboard setups on the machines where they are used most often.
Featherboards are easy to make
There are a huge variety of store-bought featherboards, but I like to make my own. It's inexpensive and easy.
Continue reading in the PDF below:
View PDF