Fisch - Precision Brad-Point Bits
The Fisch Precision spade-shaped bit was a top performer in our tests.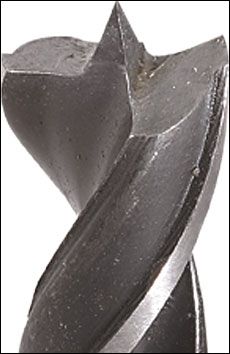 The author tested eight brands of drill bits for the accuracy of their stated dimensions, the efficiency of their design, and their chip-clearing ability. The 3/8-in. bits were selected for the most rigorous tests, drilling 200 holes in hard maple and 875 in particleboard. The 3/16-in. bits were tested for clogging in pine; the 1/2-in. bits were tested on white oak. He found that the spade-shaped bits performed the worst, the W-shaped bits produced mixed results, and the spur-shaped bits were best overall.
The Fisch Precision spade-shaped bit, like the other spade-shaped bits tested, drills by a combination of cutting and scraping, generating more fine dust that the other shapes and resulting in ragged holes. This bit was the only one that could bore through the entire 2-in. thickness of the white oak and the only spade-shaped bit to produce a clean exit hole in the through-boring test. The entry hole it produced, however, was very ragged and trumped any advantages this set may have had. It scored a fair in the entry-hole rating, an excellent/good in the through-hole rating, and an excellent in chip clearing.