Wood Tech Enterprises - Forest City Brad-Point Bits
The Forest City bits -- some of the higher priced bits tested -- bore clean, flat-bottomed holes, and scored well in our tests.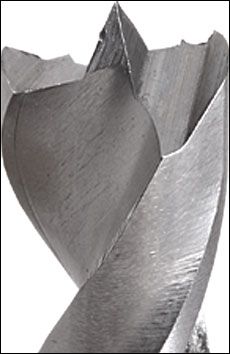 The author tested eight brands of drill bits for the accuracy of their stated dimensions, the efficiency of their design, and their chip-clearing ability. The 3/8-in. bits were selected for the most rigorous tests, drilling 200 holes in hard maple and 875 in particleboard. The 3/16-in. bits were tested for clogging in pine; the 1/2-in. bits were tested on white oak. He found that the spade-shaped bits performed the worst, the W-shaped bits produced mixed results, and the spur-shaped bits were best overall.
The Forest City bits, the second most expensive at $58, cut clean, accurate holes in maple and plywood. Chip clearing was not a problem, and it drilled to a respectable depth in the white oak, leaving a flat-bottomed hole similar to those produced by the Forstner bits it resembles. These bits scored an excellent in the entry-hole rating, a good/fair in the through-hole rating, and an excellent in chip clearing.