Micro-Jig - GRR-Ripper Push Block
This is a well-designed push block for a variety of tablesaw ripping operations.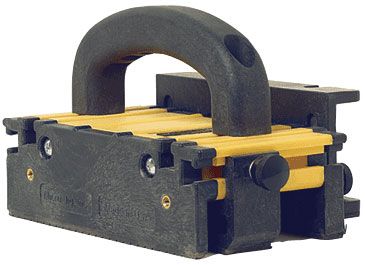 When ripping stock, a push block or a push stick is an indispensable safety tool. Over the years I've seen versions in all shapes and sizes but none as exotic as the GRR-Ripper from Micro-Jig.
The body of the tool accepts a pair of narrow, fixed side legs and a wider movable center leg. All three of the legs have a rubber sole. Adjusting the center leg side to side between the side legs creates a tunnel through which the sawblade can pass. The handle also adjusts side to side, so the pushing force can be placed where it's going to be most effective. When ripping narrow stock, an adjustable L-shaped plate can be lowered to meet the saw table, which helps prevent the tool from tipping.
In general, the GRR-Ripper worked fine. When cutting narrow stock, the sole bears on both sides of the cut line, so the offcut is carried past the blade, a nice feature.
On the downside, though, when cutting narrow stock, the tool interfered with the blade guard. Also, most pushers have some means to hook over the trailing end of the stock to provide downward and forward pressure. But the GRR-Ripper relies entirely on friction between the sole of the tool and stock, so I had to use more downward force than usual.
The GRR-Ripper also can be used with a router table or jointer. Overall, this was a well-made product. But at $50 to $70 each, depending on the model, I think I'll stick with my shopmade push blocks.