Fixture for Turning Feet on Bowls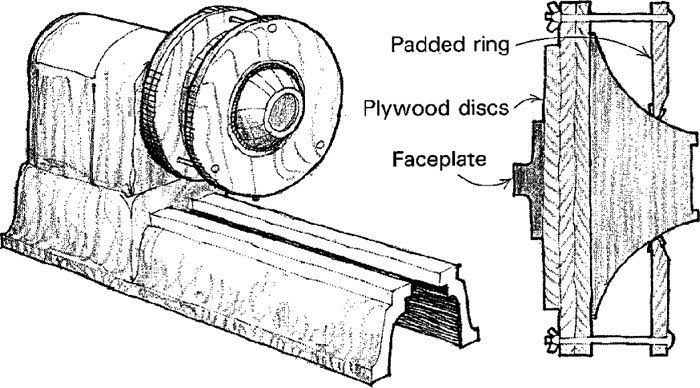 This fixture is for those woodturners who appreciate a neatly turned foot on the bottom of a bowl or plate. Unlike other fixtures I've seen, it won't bust your knuckles, lose the workpiece at the critical time or require much fussing to center the work. The easy-to-build fixture is made from one 9-in. disc, two 12-in. discs and one 12-in. ring all cut from good quality plywood. Glue up the three discs into a solid base and mount them to a faceplate as shown in the sketch.
Now install three smooth-headed carriage bolts through the plywood ring into the base so that the work can be sandwiched between the ring and the base and tightened in place with wingnuts. It's a good idea to round and pad the inside of the ring so it won't mar the work. You may need several different rings, each with a different-size opening to handle various sizes of bowls and plates. To center work in the fixture, turn the work by hand as you tighten the wingnuts, adjusting the position as necessary you can rest a pointed skew across the tool rest to use as a reference point.
Doug Napier, Mansfield, Ohio
Fine Woodworking Magazine, April 1987 No. 63