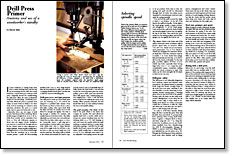 Drill presses are precision tools, capable of boring holes in exact locations at carefully controlled depths. Drill presses typically used by woodworkers vary considerably in size and cost, from small benchtop models costing less than $100 to large floor models costing up to $400.
What Counts:
• Quality of chuck
• Length of quill stroke
• Size of work table
• Table-raising mechanism
• Distance between support post and chuck
• Availability and style of quill lock
• Capacity of motor
Benchtop or freestanding?
Many benchtop models (but not all) have less powerful motors, smaller-capacity chucks and fewer speeds than larger floor models. But for someone who uses the tool only occasionally, and especially in a cramped shop, a benchtop model has one big advantage: It can be tucked in a corner when it's not needed and not take up any floor space. Floor models take up more room, but they have larger work surfaces, more powerful motors, a greater number of speed settings, and rack-and-pinion adjustments for table height.
How they work
No matter what the size of the machine, all drill presses work in basically the same way. A motor mounted at the back of the machine drives a pulley that's connected to a spindle that turns the bit. Stepped pulleys allow bit speed to be adjusted to suit the material: slower speeds for large-diameter bits and higher speeds for small-diameter bits. A greater number of speeds allows more precise adjustments.
Fitted with special bits, drill presses also can cut decorative rosettes or bore square mortises for furniture joinery.
Quill stroke is the distance that the chuck can travel vertically, so it determines the maximum hole depth. Quill stroke for full-size drill presses may vary by an inch or more in the same class of machine. One useful feature is an easy-to-use quill lock, which allows the bit to be lowered to the workpiece and held there temporarily while depth adjustments are made. Manufacturers approach this differently, so it's worth checking. Table dimensions and the distance between the chuck and the support post also help determine how large a workpiece can be positioned beneath the chuck.
Chuck quality is important
Chuck quality varies from machine to machine. Look for a chuck that operates smoothly over its whole range of adjustment. Finally, consider any available information on runout in the spindle and chuck assembly — that refers to how much a bit will run out of true (or how much it wobbles) as it turns. The less runout, the better.