Workshop tip: Foot pedal oscillates drill-press sanding drum
A shopmade platform and a foot pedal start you on the way to smooth curves.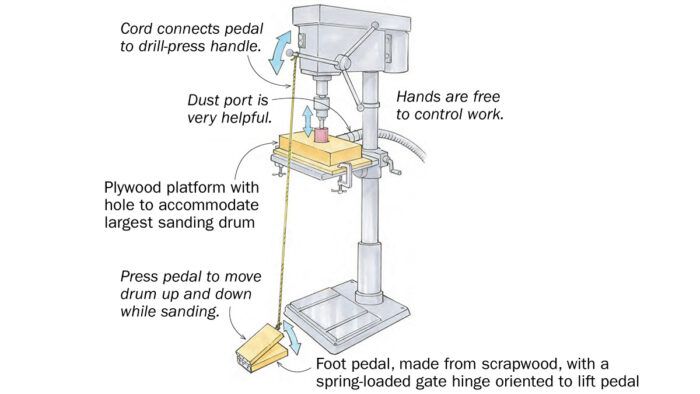 I don't need a spindle sander often enough to justify a dedicated machine. So I bought a set of sanding drums for my drill press. While these are very handy, they aren't as effective as a spindle sander because they don't oscillate up and down to distribute wear on the paper and minimize deep scratches. So I thought up a simple solution.
It starts with a shopmade platform that allows the drum to pass through it. The other component is a foot pedal, which lets me move the drum up and down while keeping my hands free to control the work. The pedal is attached to a cord that pulls the drill-press handle down, and the spring in the drill press returns the chuck and handle to its upper (retracted) position. I made the pedal from two pieces of scrap and a spring-loaded gate hinge, installed so the pedal rises when foot pressure is released. Attach the cord to the pedal and the drill-press handle, and you're ready to start tapping your foot and sanding smooth curves.
—JIM BELKNAP, Vero Beach, Fla.
Illustrations by Dan Thornton
From Fine Woodworking issue #293