Turbinaire - Spray Unit 1235 HVLP
The Turbinaire 1235 unit is a variable-speed feature that allows infinite control of atomization pressure and air volume.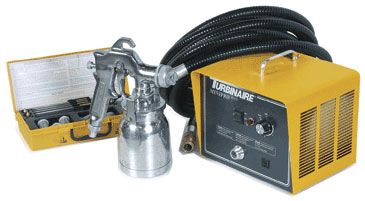 The Turbinaire 1235 HVLP (high-volume low-pressure) sprayer is about a third smaller than most home-shop turbines. But small size doesn't necessarily equate to low performance. This well-built three-stage turbine had more than enough muscle to spray everything from water-thin stain to unthinned brushing varnish.
The manufacturer claims an air-volume output of 110 cu. ft. per minute (cfm). But atomization pressure really is what dictates spray-gun performance. I measured an atomization air pressure of slightly less than 6 psi at the turbine and almost 5 psi at the spray-gun nozzle. While 5 psi might sound wimpy, it is more than adequate to spray most properly thinned finishes.
Unique to the Turbinaire 1235 unit is a variable-speed feature that allows infinite control of the atomization pressure and air volume. I was able to dial in the ideal atomization pressure, which considerably reduced overspray.
The spray gun was comfortable to use, well balanced, and easy to disassemble. A pair of optional accessory kits is available: one that works best with finishes and stains and one that, in addition, handles thicker products like paint.
The Turbinaire unit I tested had a bleeder-type spray gun, not a favorite of mine because it blows full-pressure air from the air cap, whether you are spraying finish or not. It's a nuisance and stirs up a lot of dust. However, Turbinaire offers a non-bleeder-type gun as an option. There's also a bleeder-type gun with a check valve.
The internal fluid passages on the gun I tested were made from brass rather than stainless steel. Water-based finishes tend to corrode brass fittings, so the gun must be disassembled and thoroughly cleaned after spraying a water-based finish. Turbinaire's non-bleeder-type gun, however, is all stainless steel.
The unit I tested included the turbine, the bleeder-type spray gun, 25 ft. of hose, and a viscosity cup and sells for about $700. With a non-bleeder-type gun, the price is about $825. The woodworker's version of the accessory kit sells for about $150. Although, I think the system is pricey, it performed very well. Comfortable. well-balanced. Easy to disassemble