Senco - FinishPro 18BMg
18 gauge finish nailer with LED and belt hook.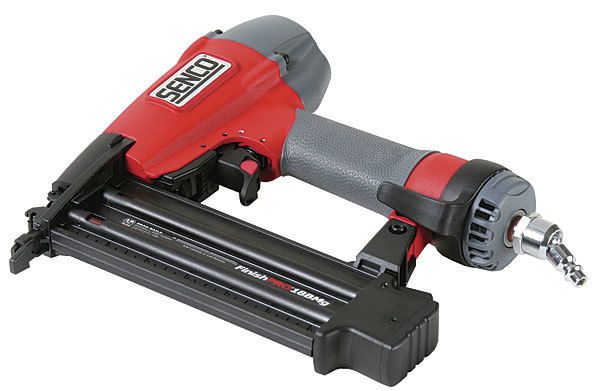 Pneumatic nailer is versatile and comfortable
If you're only going to have one nail gun in the shop, it ought to be an 18-gauge brad nailer. Delicate enough for small moldings, but robust enough for more demanding woodworking jobs like assembling jigs and fixtures and installing crown molding, it strikes a great balance for a furniture shop. Senco's new FinishPro 18BMg, which fires nails 5⁄8 in. to 21⁄8 in. long, is lightweight (2.8 lb.) but solidly built with a magnesium body. It's compact and comfortable in the hand, thanks to a textured rubber hand grip. It's easy to load and has a depth adjustment and a swivel air connector. Other useful features include a belt hook and an LED headlight. These are great if you install cabinetry or woodwork, like I do. When nailing face frames onto 3⁄4-in.-thick cabinet parts, hitting dead center is critical, and the headlight helps focus on the target. The belt hook is great when working on a ladder installing crown molding. You can buy similar brad nailers for less money (I've had a half dozen over the years) but if reliability and comfort make a difference, the Senco is a smart choice.