JessEm - Rout-R-Lift Router
JessEm's router table lift accepts both fixed-base and plunge routers and features a drive-screw operated carraige lift.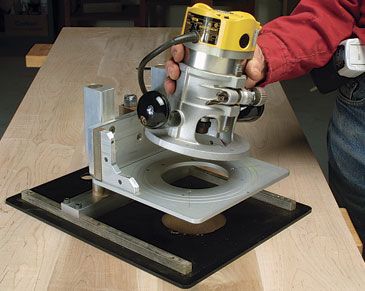 The Rout-R-Lift, made by JessEm, has a carriage that cantilevers out from two 3/4-in.-dia. steel guideposts. The carriage flexed a bit under firm hand pressure, but this was not a problem in use, even when I took fairly heavy cuts.
The carriage is raised or lowered by a 20-tpi (threads per inch) drive screw attached to the crank handle by a cogged rubber belt. An adjustable brass nut on the screw eliminated any backlash in the drive.
Because the base of the router mounts to the plate of the carriage, the Rout-R-Lift can accept both fixed-base and plunge routers. But because the router ends up sitting well below the surface of the table, bit changes are awkward. Above-the-table changes are possible with some routers. For example, with a Bosch 1617 fixed-base router in the lift, a wrench can reach the collet nut from above; the second wrench to hold the shaft must be positioned under the table. JessEm plans to release a heavy-duty version of the Rout-R-Lift that allows easier bit changes from above.
The table insert rings, made from phenolic plastic, lock into the top with a quarter turn. Five different inside diameters are available, from 1/4 in. through 2-1/2 in., including one that accepts Porter-Cable guide bushings. Only one insert ring—the 1-1/2-in. size—is included with the lift.
All things considered, the Rout-R-Lift performed well in service. It's a high-quality tool with a cranking action that was smooth, easy, and accurate.