Woodpeckers Inc. - Precision Router Lift
The Precision Router Lift from Woodpeckers Inc. is designed to accommodate bit changing from above the table.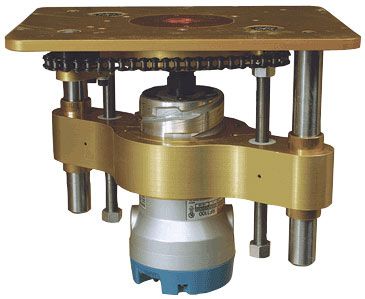 In general, the design of the Precision Router Lift from Woodpeckers Inc. is similar to Bench Dog's ProLifts. The foundation of the Woodpeckers product is a substantial aluminum carriage with long bronze bushings that ride on large (1-in.-dia.) steel guideposts. Carriage movement is controlled by a pair of fine-threaded drive screws that run in long, threaded nylon bushings. A chain drive synchronizes and connects the screws to the removable crank handle.
The carriage motion was very smooth with no backlash. And the fine threads on the lead screws allowed me to make adjustments of less than 0.001 in.
The Precision Router Lift is designed to be used with Porter-Cable's large fixed-base router, model 7518. But simply by adding adapter collars, the carriage can also accept a wide range of smaller fixed-base routers: Porter-Cable's 690, Bosch's 1617 and 1618, DeWalt's 610, and Makita's RF1100 and RF1101. The Precision Router Lift won't work with a plunge router.
The anodized-aluminum plate has a 3-1/2-in.-dia. opening that accepts insert rings with inside diameters of 1 in., 1-1/4 in. and 2-1/2 in. And it takes just a quarter turn of an insert ring to lock it in place. The 1-1/4-in.-dia. insert ring is designed to hold Porter-Cable's guide bushings.
Two discs, each graduated in thousandths of an inch, are recessed into the plate. The discs spin with the drive screws, and in the process they provide a readout of the changes in bit height. The discs can be adjusted with a screwdriver, but I found the process to be fussy. Also, because the drive screws have fine threads, it's a slow process to make major height adjustments. Indeed, it takes 32 turns of the crank handle to move a bit just 1 in. To speed up things, the shaft of the crank can be chucked in a power drill. For me, though, that process was time-consuming and awkward.
Overall, the Woodpeckers Precision Router Lift worked quite well. It's a sturdy and well-built tool. All of the adjustments were precise. And it lets you change router bits from above the table.