HTC - Brett Guard Tablesaw Blade Cover, Cantilever Mount
HTC Brett-Guard Tablesaw Guard is heavy duty and easy to use.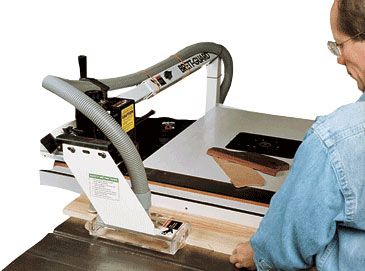 Very heavy duty comes with poor splitter
The Brett Guard is heavy duty and easy to use, But using a splitter with it is problematic.
The Brett Guards differ from the other systems in the blade cover itself. Instead of a basket-type cover, a Brett Guard has a thick but shallow plastic box connected to a control housing that is adjusted manually. Unlike gravity-type covers, it presents a fixed barrier that does not ride up and over the workpiece on its own. While this thick, sturdy cover can hold down a workpiece, providing some kickback protection, it also leaves the blade somewhat exposed after the workpiece has passed.
There are two types of Brett Guards, both manufactured by HTC. The original Brett Guard attaches to the left edge of the saw table, significantly limiting the working area on that side but providing a blade-cover option for shops with limited space. The cantilever-mounted Brett Guard is supported by an overarm frame like the other blade covers reviewed here.
The Brett Guards are easy to use, but the small splitter plate attaches like a standard splitter and is just as inconvenient. And the only splitter accessory that fits behind the large cover of a Brett Guard is the Delta Disappearing Splitter, which fits only right-tilting Unisaws.