Craftsman - Fixed-Base 2-hp Router 17506
Craftsman offers a comparable fixed-base router as model No. 26834.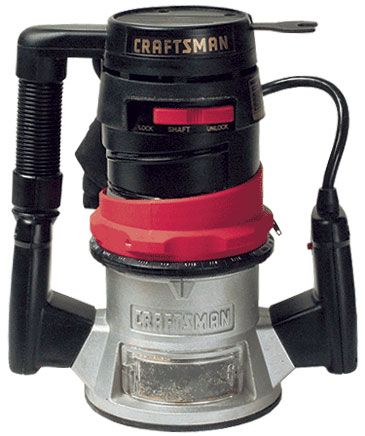 For all-around shop use, midsize routers make sense. At 2 hp to 2-1/4 hp, they have enough testosterone to handle most cuts without the bulk that can make bigger versions a chore to run freehand. I gathered all of the midsize fixed-base routers on the market and tested them in the Fine Woodworking shop. The test had three main parts. First, I considered the ergonomics of the routers, using them by hand and in a router table. Then I checked them for noise, runout, and vibration. And finally, I gave them a handheld run to see how effectively they plowed through wood.
The Craftsman 17506 has an easy-to-use switch and switch lock, changing bits is easy, and the dust bag works well. But the motor rotated during test cuts, and the depth-adjusting ring is sticky. The locking knob isn't easy to turn. It accepts only 1/4-in. shank bits. The machine is less user-friendly in a table.