Stiletto - Titanium Hammer
The titanium hammer is light, but it offers a lot of control.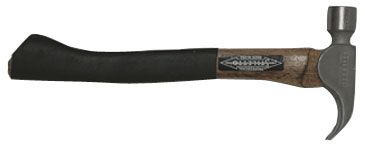 Seems like just about everything is being made of titanium today, from cell phones to space stations, even hammers. For some products, titanium is a fad. I had my reservations about titanium hammers until I actually started using a Stiletto finish hammer.
You can carry a titanium hammer in your tool belt all day and not even know it's there. And that's good news if you suffer from back problems. Due to the tool's light weight, you have to make up for it somehow to equal the striking force of a heavier tool. So you end up swinging it faster, which is a breeze. The action feels weird at first, as if someone has played a joke on you and hollowed out the head.
The Stiletto really excels when you have to swing the hammer sideways or in an upward arc. Less weight translates to more control, at least for me, in awkward positions. Stiletto makes an entire line of hammers, for all applications. For light-duty work, I like the 10-oz. finish hammer (FH10C).
—A.B.