St. James Bay - Smoothing Plane No. 51
Available as a kit or as a finished product, the St. James Bay smoother is a nice tool that requires some maintenance.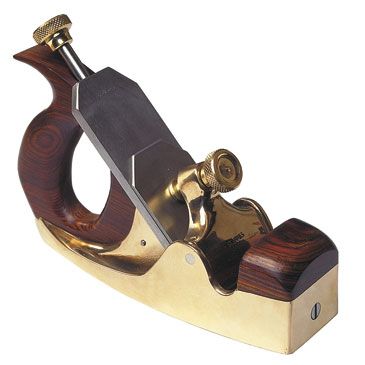 St. James Bay Tool Co., a small plane making shop based in Arizona offers this smoothing plane as a kit or as a handmade finished product.
The adjuster works well enough, but because of the way the handle is made, the adjuster controls only depth (it should also regulate lateral alignment). At one point the adjuster fell apart, and I had to make a repair to continue planing.
The screw cap is a handsome casting, but it employs a loose foot (similar to the pad jaw of a C-clamp) to clamp the iron in place. This was one essential part sure to get lost in a pile of shavings.
The quality of the finish on the rest of the plane showed that hours of handwork went into making it, but I would have preferred it look a little less flashy and work a whole lot better.
St. James Bay also sells raw or machined castings for this and other planes to be made as a kit, and the company offers its planes in a variety of bed angles. My advice would be to buy the company's castings and make a plane yourself. I know a craftsman who has done just that, and he's extremely happy with the results. He points out, however, that although the finished plane works like a dream, making one is not a matter of snapping together a kit: He bought machined castings and spent some 40 hours building the plane.