Basic Blacksmithing
What a woodworker needs to forge tools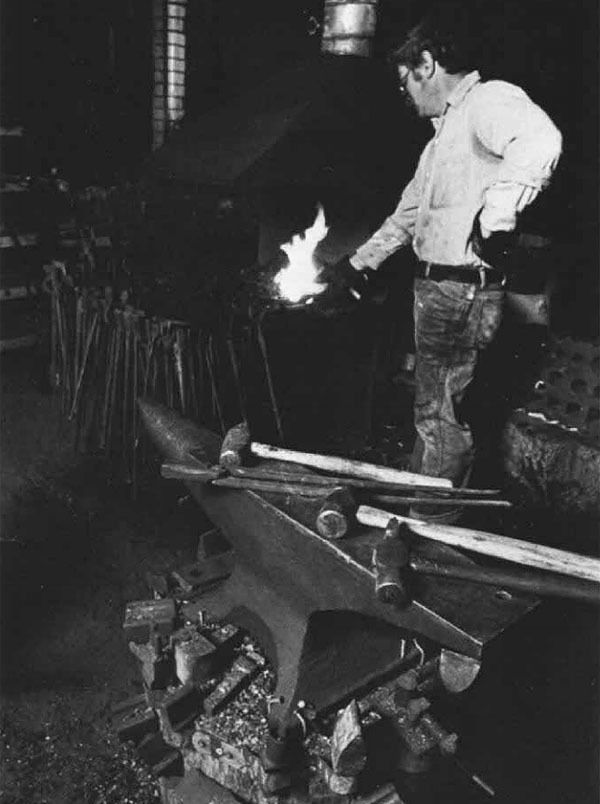 Synopsis: Frustrations sometimes spark woodworkers' interest in hand-forged tools, at least those special tools unavailable from even the best supply houses, writes Ray Larsen. It takes substantial investment and time to set up a forge and locate equipment and learn the skills, he says, but those who seriously love the craft will save time and money repairing, making, and modifying tools. They can also make special pulls, latches, hinges, and other hard-to-find hardware. Larsen describes the equipment and fuel, the steel used and how to identify patterns, and the technique involved.
The furniture maker ruins a mahogany table base while trying to cut a deep mortise in it. He is using the wrong chisel because the right one has been out of stock for eight months. The instrument maker applies pressure to the shell auger buried deep in the boxwood clamped in front of him. The bit snaps in his hand. The turner walks from his lathe, shaking his head. A poorly designed gouge has just ripped through the tulipwood bowl he's been working on all day. The sculptor lays down his mallet and puts his work aside in frustration. He can't get the effect he wants, although he's tried every tool in the catalog.
Such incidents, all too common in woodworking, have led to a resurgence of interest in hand forging high-quality tools, at least those special tools unavailable from even the best supply houses. This has developed a number of skilled blacksmiths able to produce special tools of the highest quality, and woodworkers need only avail themselves of their services. In addition, a growing number of serious woodworkers are taking up blacksmithing themselves. They are discovering that with a little perseverance they can forge their own tools.
It takes a substantial investment to set up a forge and a substantial block of time to locate equipment and learn the necessary skills. Each woodworker should ask himself how serious his need is for special, high-quality tools before deciding to make them. The devoted craftsman will quickly resent the time taken from his first love to produce tools he really doesn't need.
Once a woodworker learns blacksmithing, he never again need worry about tools breaking, or not holding an edge, or ruining the work. Less time struggling with tools means more time producing high-quality work. And the most exotic tools are readily available. Need a special shape for turning the inside of a box? It's there for the making. Many woodworkers find that a tool especially designed for a job enables them to produce pieces others can't, or to produce them faster or more economically. The right tool for the job means superior work.
After the initial investment, the blacksmith-woodworker saves time and money; others must wait until special tools become available, or run around searching them out, or pay the relatively high cost of having them made by a specialist. The woodworker who can make tools can also repair and modify them. A chipped screwdriver is reshaped at a fraction of the cost of replacing it; an old parting tool is reworked to turn a special configuration.
More on FineWoodworking.com:
From Fine Woodworking #9
For the full article, download the PDF below:
View PDF