Gallery
a patchwork claro walnut blanket chest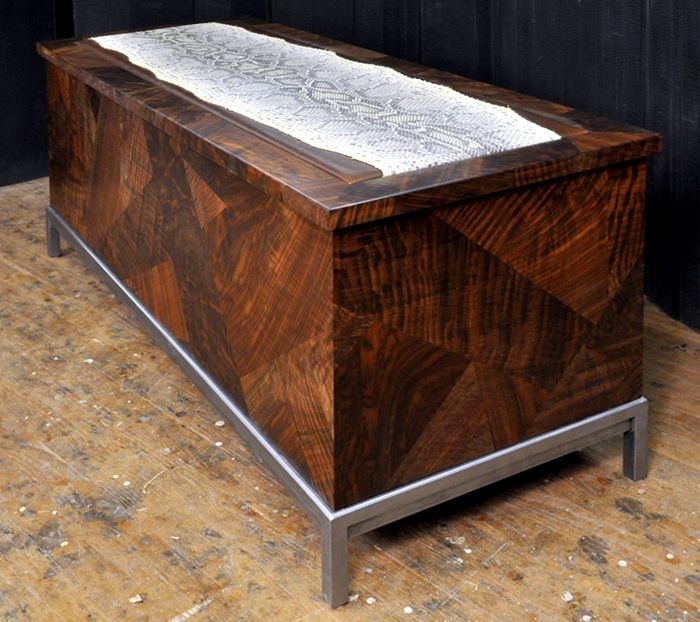 aside from the photo captions, there's not much more to say about this piece .. there is a blog post about it at this link and there are maybe a few more photos and insights to be had there …
the finshed chest ... steel base by my son sam mosheim .. python skin by edelman leather .. brown bomber by universal leather, upholstery by bespoke custom upholstery, manchester, vt
first step was to fit up the veneers using masking tape.
next the masking tape was carefully replaced with veneer tape, which is easier to remove by sanding then the masking tape which is about impossible to remove once the panel has been in the veneer bag ... handy veneer bag storage tip at this link
my assistant chris bowlen did quite a bit of the veneer work on this piece with me
after veneering, the panels are sanded, rabbeted for the bottom, cut to size, and mitered ....
next we glued clamping cauls on the side panels so that we could apply clamping pressure perpendicular to the center line of the miters. we used brown paper bags to glue them on, and after the glue up, we knocked the cauls off with a sharp hammer blow .. the vertical braces and temporary bottom panel helped with the glue up too.
you can see the residue from the paper bag in this photo .. easy to sand it off
the top frame for the leather and python skin was veneered on all four sides and itered. the panel is supported by 4- 1/2" x 1/2" brass strips screwed into the the cvg fir door core. chains were added to support the lid when it is opened