Gallery
Two infill hand planes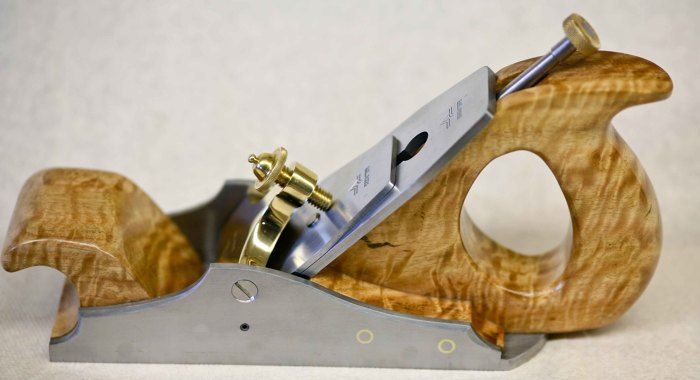 I've just finished work on two new dovetailed infill hand planes, the first having the dimensions of a Stanley No. 4.5, more or less, the second those a Stanley No. 3.
The infill on the 4.5 is blue gum eucalyptus with a hand rubbed Tried and True Danish oil finish topped with shellac in a modified French polish – meaning one done with Finesse-It as a final step. The infill on the No. 3 is black acacia, also with a hand-rubbed Tried and True Danish oil finish (but no shellac).
I have the sides and base (1/4 inch 0-1 tool steel for the base, 3/16 inch low-carbon steel for the sides) cut on a water jet running at slow speed, with pins on the sides and tails on the bottom. Rather than nick the corners of the pins to yield something like a double dovetail, I drill 1/8 inch holes through each pin into the base into which I insert expandable steel pins.
I do all the peening, filing and sanding by hand – a laborious process but the only way to get the results I want. Odd as it sounds, I actually like the work involved. I keep a small flashlight and a magnifying glass handy while peening and regularly check progress, and I get a kick out of seeing that metal flow. Whodathunk you could make steel flow, right? It's fun to see it happen.
I like sanding wood, too. The more carefully you do it, the more clearly you see the wood.
Ron Hock makes my irons, the estimable George Wilson my cap screws. The Norris-style adjusters are by Ray Iles.