Two ingredients for added durability in shellac
Finishing is kind of like playing ball in the house. Can you fix it when you throw too hard?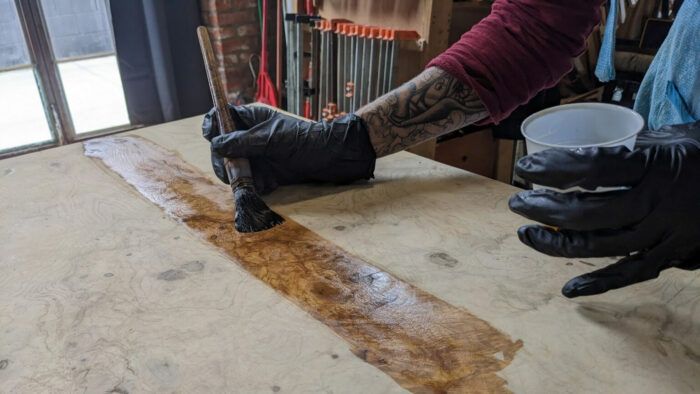 What is my favorite finish?
There are thousands of finishes out there and each one will have strengths and weaknesses. In restoration and conservation, we see so many finishes fail. The things I look for most out of a finish are threefold. Durability: Can I throw things at it? Repairability: Can I fix it when I throw too hard? And reversibility: Can I undo it?
I prefer shellac over almost all finishes because it fits all of those parameters. I got my start in woodworking in a one-size-fits-all spray lacquer refinishing shop. After three years, I understood that one size does not fit all. The toxicity and danger of removing and reapplying plasticky lacquers led to me realize I prefer shellac one hundred times over. It fits all my parameters. It is repairable, reversible, and does not look like plastic.
What is shellac?
Shellac is a natural resin, a complex mixture of polymers that is used widely even outside of woodworking. The resin is cleaned and filtered of impurities and returned to a dry crystalline form, hence the variety in weights and colors. The cultivation of shellac resins is intrinsically linked with humanity, a resource with history that includes threatened systems of indigenous knowledge and wisdom. Properly cared for, shellac lasts an exceedingly long time.
How can I supply shellac with heat resistance?
But here's how I like to tweak it to last even longer. I combine recommendations from conservation literature on wooden artifacts and add two materials, one for heat and one for UV-damage. Heat frequently bubbles a finish and the sun degrades the wood, sometimes slowly, sometimes quickly. Laropal A-81 belongs to a class of resins with excellent heat resistance and durability. Tinuvin 292 belongs to a class of light stabilizers, commonly called UV-absorbers, with excellent resistance to harm caused by light and oxidation. They protect both the finish and the wood, where oxidation does damage to both. Refer to these pictures for a table that with very little protection from a failed finish, where the wood started fall apart.
Does it stand the test of time?
Both Laropal A81 and Tinuvin 292 can be added to a wide variety of finishes. Acrylics, alkyds, vinyls, and of course shellacs, are all commonly modified with Laropal and Tinuvin to increase their lifetime. They slow the rate of oxidation in the finish and prevent harmful wavelengths of light from reaching the wood below. For me, this is important for the integrity of the wood in general, but especially those with highly figured woods I'd like to preserve the aesthetic qualities of.
This shellac cocktail mixture is both easy to spray or apply by hand. My mentor, Chris Bame, uses my first test table as his dining table. He maintains it receives regular abuse of spilled coffee and hot pans straight out-of-the-oven to assess the damage. News flash: It's doing great.
The ratios of the shellac, Tinuvin and Laropal, can even be tweaked depending on your level of comfort. It can be dulled to a flat matte or polished to a high gloss. Shellac is your challenge, should you choose to accept it.
A quick ratio to try yourself
500 g Ethanol
70g Shellac
30g Laropal A81
1g Tinuvin 292
---
| | |
| --- | --- |
| | Your shop and your high school chemistry class are more alike than you'd think. |
| | Mother Nature: 1, outdoor finishes: 0. |
| | |