Gallery
ToolBox – From FWW Plans – Tim Killen Design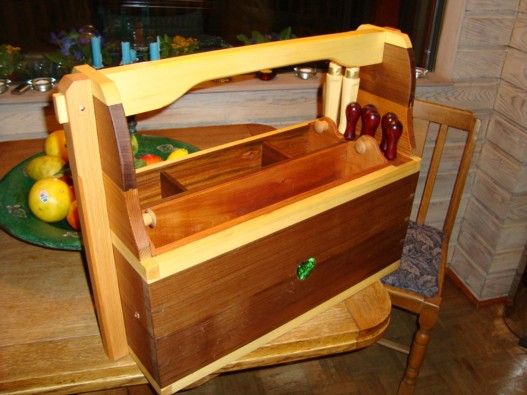 I thought I would post this since I just saw Tim Killen's post in the Design/Click/Build Blog where he used this plan of his to demonstrate how to draw a Craftsman style chamfered peg in Sketchup. Turns out I was just trying to figure that out for another model I was drawing and I saw that Tim had designed this Tool Box.
I recently built it as a Christmas present for my wife. It was the first time I'd used a plan drawn in Skecthup. It was a good chance to use up shop off-cuts and having the plans in Sketchup allowed me to scale it down a bit so that I could make use of some smaller pieces.
The four sides of the box in the plan require a pretty wide piece of solid pine which I didn't have so I biscuited some pieces of Red and Yellow Cedar together. The handle is Yellow Cedar, the end braces are Douglas Fir and the trays are Mahogany and Tiger Wood. Box and tray bottoms are solid Pine. Other bits are Cherry and the tray pegs are Beech. I also used a few copper rivets and roves to hold some pieces together and I inlaid a glass heart in the front (my wife's company's name is GreenHeart.)
Its not an ambitious project but it was fun to do, good practise for hand-cut dovetails and it had the desired effect (How many women get tool boxes for Christmas?!!)
Thanks for the design Tim!